About the Recipe: Peach Chipotle BBQ Sauce
We are always angling for Rob to make homemade pizza dough for dinner. Every weekend, the kids ask for Daddy's pizzas. We have the execution of pizza night down to a science at my house. I concoct the ideas and prepare all of the toppings, while Rob masterfully tosses the dough and crafts the pizza. Our latest pizza creation featured my homemade Peach Chipotle Espresso BBQ sauce topped with fresh SC peaches from Watsonia farms. A perfectly balanced sauce with a little kick of espresso, smoky and spicy chipotle peppers, and sweet, fresh peaches. This is definitely a fun, delicious, summertime recipe utilizing beautiful fresh summer produce.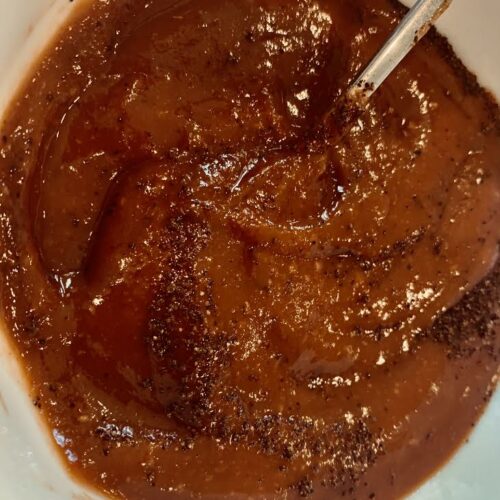 Peach Chipotle Espresso BBQ Sauce
A savory BBQ sauce with a little kick of espresso and chipotle peppers balanced by the sweetness of fresh peaches. It's the perfect topping for grilled vegetables, vegetarian tacos, or as a marinade.
Ingredients
1

cup

fresh cherry tomatoes (or 1 15 oz. can)

4

shots

espresso (or 1 cup of strong coffee)

6-8

canned chipotle peppers

2

fresh peaches sliced

1

tbsp

honey (I like to use haberno infused honey. Substitute sugar if vegan)

1

tsp

onion powder

1

tsp

garlic powder

1 1/2

tsp

pepper

1 1/2

tbsp

balsamic vinegar

1 1/2

tbsp

soy sauce

2

tbsp

tomato paste

salt and chili powder to taste
Instructions
Combine all ingredients in a large sauce pan. Bring to a gentle simmer and cook 15 minutes.

Taste and adjust seasonings.

Remove from heat and allow to cool a few minutes. Transfer to a blender and process until smooth.
---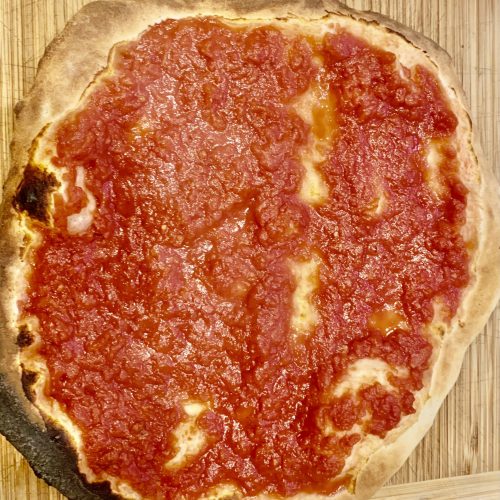 Homemade Pizza Dough
Easy Homemade Pizza Dough
Ingredients
600

grams

Caputo 00 flour

4 cups

355

grams

warm (105-115 deg F) water

1 1/2 cups

1/2

tsp

active dry yeast

1 1/2

tsp

salt
Instructions
Place 1 1/2 tsp of salt into a glass measuring cup. Tare scale to zero and weigh 355 grams of warm water. Stir and set aside for salt to dissolve. The salt adds elasticity to the dough.

Weigh 600 grams of 00 flour and place in the bottom of a stand mixer. Add the yeast to the bowl.

Once the salt has dissolved, slowly pour the water into the stand mixer while on low speed. Turn mixer off when a soft dough forms and let rest for 10 minutes in the bowl.

When rest is complete, use a dough hook to mix for 5 minutes. A ball of dough should form.

Weigh the dough and divide into three equal parts. Cover with a damp kitchen towel and allow to rest for 90 minutes.

After 90 minutes, knead the dough balls. Start at the outside of the dough ball and knead inward. Let rest another 30 minutes before rolling or tossing.

Next, place the dough on a floured surface (we use a handheld flour shaker to cover the countertop with flour), and flatten with your hand.

Once flat, shape the with your hands…there are many techniques, use the one that is easiest for you. I like to pinch the dough while holding it in the air, and work around the circumference. This allows gravity to slowly stretch the dough. Once it is big enough to fit over my closed fists, I gently stretch the dough with my fists, slowly rotating the dough. Eventually you will get a nice dough round which is thin enough to read newspaper print through. This is the goal thickness.

Next, flour your pizza peel, and place the dough on the peel. If your peel is stainless steel, you need to move quickly or the dough will stick to the peel. My personal preference is to use a wood peel for "launching the pizza", as the dough doesn't stick as much to the wood, and use a thin metal one for getting it out (but this is certainly not necessary).

Dress you pizza with toppings of choice. Make sure the dough still slides on the peel, before launching the pizza onto the pizza stone.

Check the pizza a few times during its cook time and rotate as necessary.

Slide the pizza out of the oven and cut on a wooden cutting board with a rotary pizza cutter and enjoy.
Looking for some other great summertime recipes? Try these Ultratruffle favorites:
Pizza with Rosemary Thyme Fig Jam