A Bit of History:
I love cooking with fresh rosemary, the smell is intoxicating and reminds me of Italy. Maybe that's why rosemary symbolizes love and remembrance? Ancient Greeks and Romans often utilized rosemary. I particularly like the story of Greek scholars who donned a rosemary wreath to improve memories during academic exams! For me, my Rosemary Sweet Potato Waffles will serve as a reminder to live "La Dolce Vita" and enjoy the sweeter side of life!
About the Recipe: Rosemary Sweet Potato Waffles
During the busy school year, I love recipes that are easy, fast, and delicious for the whole house with great leftovers for future meals. This one knocks it out of the park. My kids actually requested these 4 out of the last 5 nights. Rosemary Sweet Potato Waffles make the perfect breakfast, lunch, or dinner and leftover waffles store well in the freezer. Even better, the batter comes together quickly in the blender with oats, wheat berries/millet and semolina flour. While I love oven-roasted vegetables, the microwave serves better for this recipe. Simply, poke holes in the sweet potatoes and microwave while you measure the remaining ingredients.
Cook the batter in your waffle maker or make pancakes on the griddle. Serve with your favorite topping and garnish with rosemary and orange slices. Date syrup, maple syrup, honey, and blueberry jam all complement the flavors of rosemary, sweet potato, and orange very well.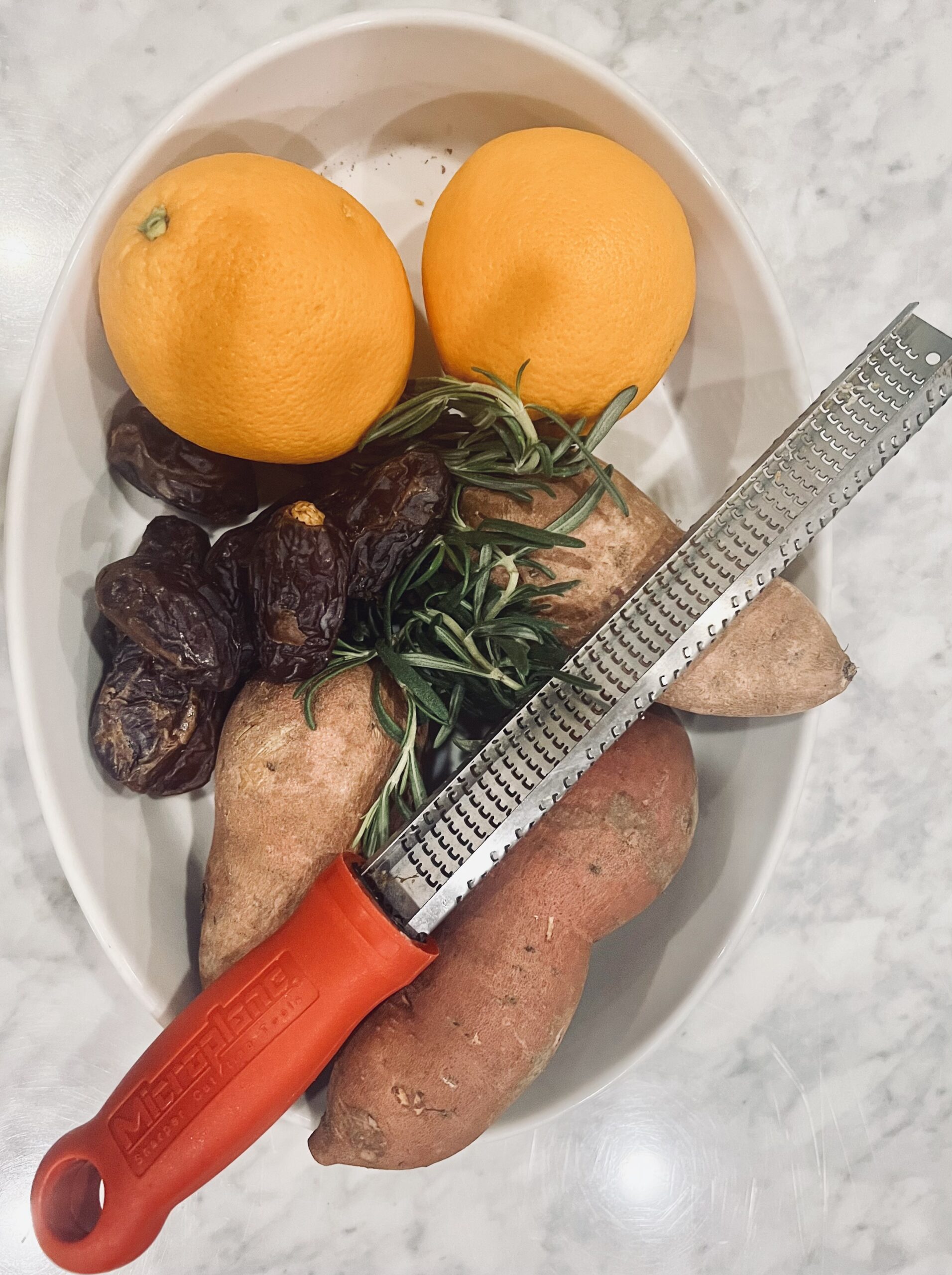 Helpful Ingredients:
I like to use Palouse Brand hard winter wheat berries and Bob's Red Mill millet.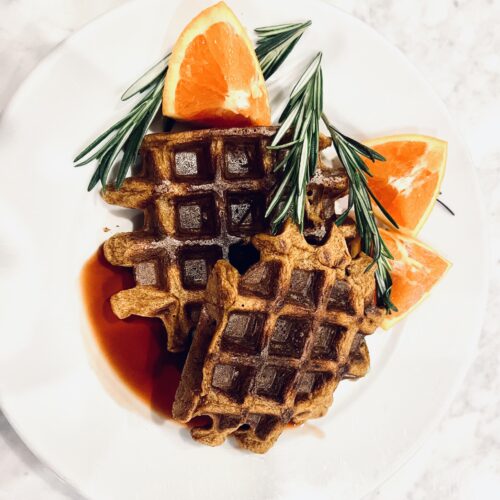 Rosemary Sweet Potato Waffles with Date Syrup
A wonderful twist on waffles that is amazing for breakfast and elegant enough for brunch or dinner. Super easy, vegan, plant-based, kid-friendly recipe; whole grain waffles packed with sweet potatoes, a hint of rosemary, and sweetened with date or maple syrup for the finish. Batter can also be made into pancakes. Store leftovers in the freezer for easy toast and go breakfast.
Ingredients
2

cups

rolled old fashioned oats (use gluten free if desired)

1/2

cup

semolina flour (use gluten free flour if desired)

1/2

cup

whole wheat berries* (gluten sensitive substitution listed below)

2

cups

cooked sweet potato (see instructions for 5 minute microwave cooking)

3 1/2

cups

plain oat milk

1 1/2

tsp

baking soda

2 1/2

tsp

baking powder

1/2

tsp

salt

1

tbsp

apple cider vinegar

1

orange

zested

2

sprigs

fresh rosemary plus more for garnish

date syrup or maple syrup for serving
Instructions
Sweet Potato Cooking Instructions
Wash sweet potato and wipe dry. Pierce each sweet potato several times all over with a fork or knife. This will prevent it from exploding in your microwave. Microwave sweet potatoes in 1 minute increments, rotating sides, until they are soft. (It took my microwave 5 minutes).

Slice sweet potatoes in half and scoop out cooked insides and set aside.
Waffle/Pancake batter
Add 1 tbsp of apple cider vinegar and oat milk to a large measuring cup and set aside while you cook the sweet potatoes.

Add oats, wheat berries, and semolina flour to a blender. Process until smooth, flour-like consistency obtained.

Add sweet potato, milk mixture, water or syrup, rosemary removed from the stem, baking soda, and salt. Process until smooth.

Store batter in the refrigerator until ready to use. Cook batter in waffle maker according to instructions or as pancakes on a griddle.
Serving Suggestions
Fresh dates, fresh rosemary, orange slices, date or maple syrup all complement the waffles beautifully.

Wrap any leftover waffles individually in foil and store in an air tight container in the freezer. Toast or air fry to reheat.
Notes
*Can substitute wheat berries with millet. 
*Optional: for a sweeter batter add 1/3 cup of date syrup to the batter. I prefer adding the syrup on top of my waffles when serving!
Looking for other great breakfast ideas? Try these Ultratruffle favorites:
Overnight pear butter with pancakes