---
A Bit of History:
Paella is one of my favorite meals for many reasons. It is easy to assemble, the ingredients can be varied and I love cooking over an open flame. In addition, who doesn't love a dish where it is acceptable and tradition to eat right out of the pan! This version of vegetable paella on the grill is sure to please the whole family.
Rice cultivation, introduced by the Arabs, started about 1,000 years ago in what is now Spain. Many historians believe that the farmers, especially in the Valencia region first started making paella by using rice, seasonal crops and often adding snails and beans.
The word paella in the Valencian language refers to the signature shallow frying pan introduced by the Romans used to create this delectable dish. Modern paella dishes in Valencia feature rice, rabbit or chicken and are cooked over an open flame using orange and pine branches.
A shallow pan design promotes as much rice as possible to contact the bottom. This allows the socarrat to form: the beautiful, crispy part of the rice that sticks to the bottom of the paella pan. The socarrat is the most delicious part of the paella and I am forever seeking how to obtain the perfect socarrat crust.
About the Recipe: Grilled Vegetable Paella
I love to grill my paella over hard wood charcoal for the added flavor. (If any of my AZ friends throw some orange branches in there; let me know how it turns out). The pan also fits so much better on my grilling surface compared to my stovetop gas burners. I have also found that keeping the grill temperature between 425 and 450 degrees F yields the best results.
Paella consists of two essential ingredients in my opinion: the rice and saffron. The rest is up to the chef! Bomba rice is the best type to use as it absorbs so much liquid and flavor three times its volume! Saffron gives paella its signature color and amazing flavor.
The most recent version of paella we made included onion, sweet peppers, calabrian chilis, roma tomatoes, asparagus, and peas. You can find recipes for all types of paella (seafood, meat, different vegetable profiles) simply by googling. This is how we prepare our paella with our favorite ingredients, but feel free to get creative and use your favorite vegetables!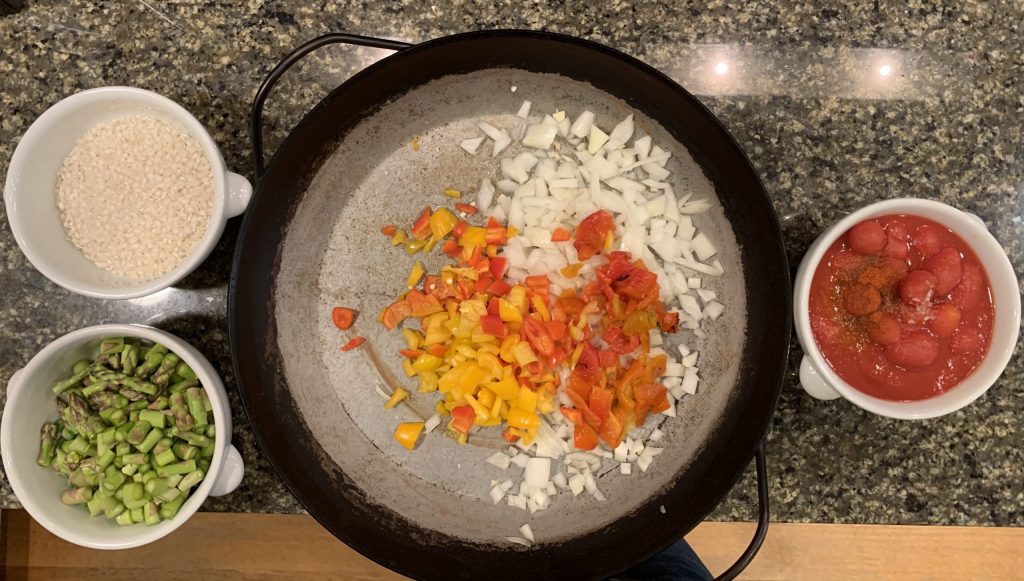 Helpful Tools/Ingredients
My favorite Bomba rice. I love the texture and flavor.
My trusty paella pan!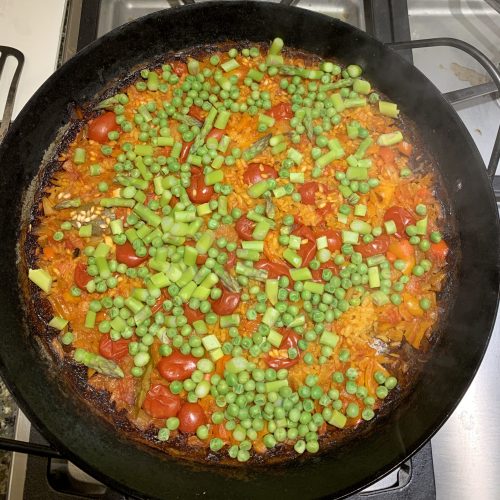 Grilled Vegetable Paella
Healthy Vegetable Paella featuring green peas, tomatoes, peppers, asparagus, shallots, and Calabrian chilies.
Ingredients
1

pinch

saffron threads

2 2/3

cup

vegetable broth

1

tbsp

olive oil, white wine, or additional broth

3/4

cup

Bomba rice

6

cloves

garlic minced

2

shallots minced

6

baby sweet bell peppers diced

(or 1 large pepper)

1-2

tsp

crushed Calabrian chili peppers

These are very spicy. Start with a small amount and increase according to taste.

1

15 oz.

can of cherry tomatoes

1

tsp

hot smoked paprika

2

bay leaves

pinch

salt

more to taste if desired

2/3

cup

petite peas

use either fresh or if using frozen thaw first

12

spears

asparagus chopped
Instructions
In a small saucepan combine the saffron threads and 2 and 2/3 cup of vegetable stock. Heat gently on the stove over low heat and keep warm.

Place 1 tbsp of oil, white wine, or additional broth in a paella pan.

Add the garlic, shallots, baby peppers, and calabrian chilies to the paella pan.

Cook on the grill or your stovetop for 3 minutes.

Add the tomatoes, bay leaves, salt, and paprika. Cook additional 3 three minutes.

Add the rice and broth. Stir once or shake pan to evenly distribute. After this do not stir the paella.

I like to rotate the pan clockwise every 5-8 minutes to ensure even heat distribution.

Add the asparagus and peas and cook additional 3-5 minutes.

Test the socarrat on the bottom of the paella pan with a small spoon. It should be crispy but not scorched.

Once your paella is cooked, remove from grill and cover in foil. Allow to rest on the counter for 7-10 minutes and then serve.
If you enjoy grilling vegetables try these other ultratruffle recipes; grilled scallion vinaigrette, wood fired pizzas, or brussell sprouts with farro and truffle oil.