A Bit of History:
Reading the ingredient list on the balsamic vinegar label, I wondered what exactly is grape must? Quite simply, grape must consists of freshly crushed grape juice, stems, and skins. Storing reduced grape must in wooden barrels eventually yields a beautiful, dark, and flavorful balsamic vinegar. Evidence demonstrates the use of grape must from 3000 BC in the Near East. However, today three types of balsamic vinegars are considered protected and true vinegars. For over 1000 years, all three types hail from either Modena or Reggio Emilia in Italy. Their careful production is a veritable art form of slow aging and tender care. As one would expect, the end result is a cook's dream and is the perfect addition to my Smoky Farro Bowl Recipe.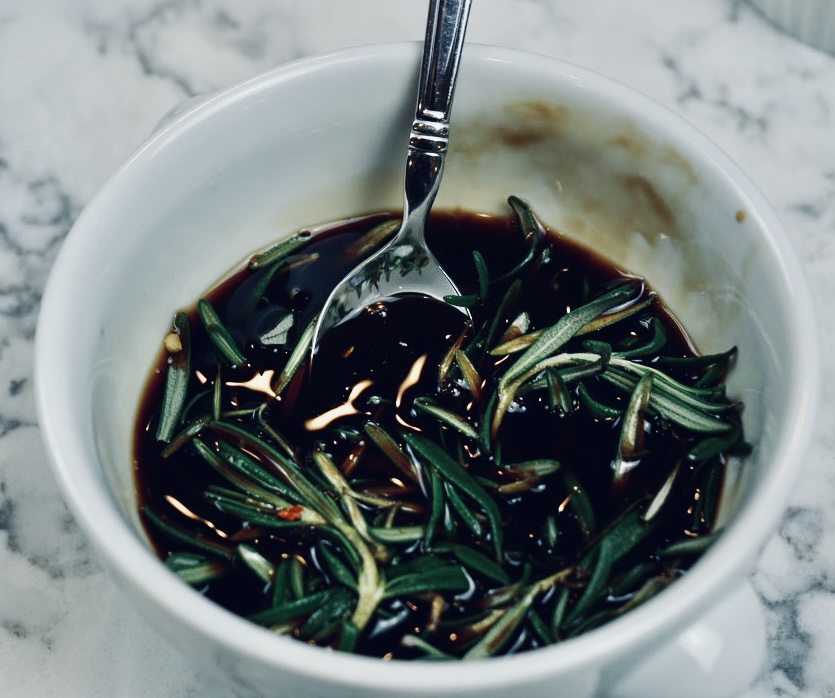 About the Recipe: Smoky Farro Bowl Recipe
This recipe is packed with beautiful ingredients, but don't be daunted by the list. In under 1 hour, with most of the time spent roasting, you will have a delicious and elegant meal. Four simple steps will transform your next dinner. First, mix the marinade while you bring a pot of water to a boil. Second, chop some cauliflower, shallots, and garlic and toss with pre-sliced mushrooms, olives, and grapes. Then, drizzle on some marinade and let the oven roast away. While roasting everything in one sheet pan, cook the farro. Finally, toss all of the ingredients together and enjoy!
The secret to this Smoky Farro Bowl lies with the wonderful blend of liquid smoke, fresh rosemary, dark balsamic vinegar, and soy sauce. The nutty flavor of farro combined with the salty olives and sweet grapes tie it all together for a delicious, plant-based meal.
Watch the video for step by step preparation!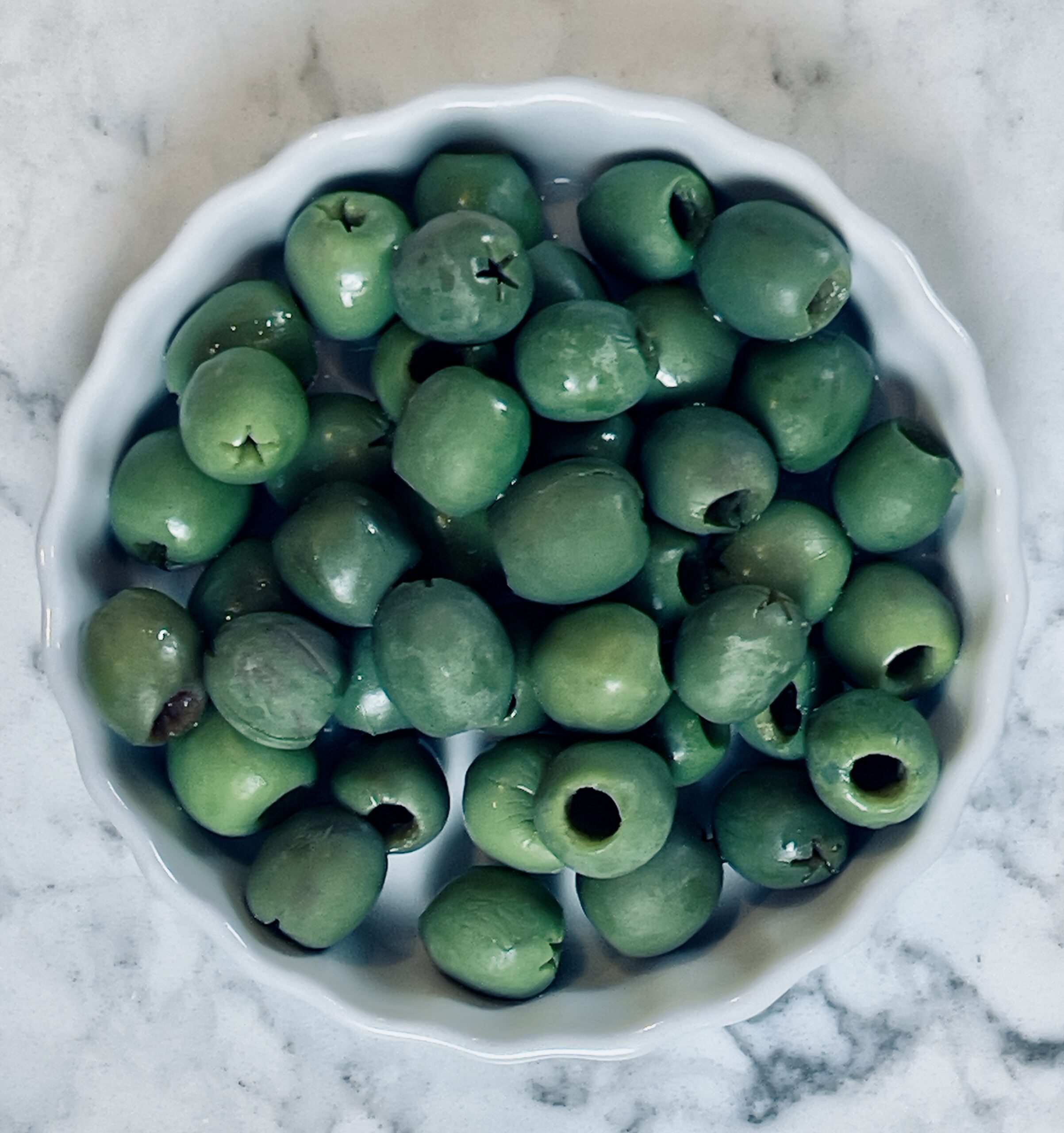 Helpful Tools and Ingredients:
I always use 18 year aged dark balsamic vinegar from Lowcountry Olive Oil.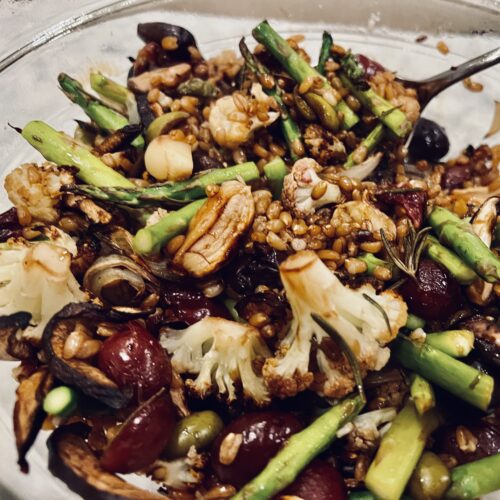 Balsamic Smoky Farro with Roasted Grapes, Olives, Cauliflower, & Asparagus
A umami powerhouse featuring smoky balsamic farro tossed with roasted grapes, Sicilian olives, cauliflower, asparagus, mushrooms, garlic, & shallots. Easy sheet pan recipe! Roast veggies while you simmer the farro and dinner is done.
Ingredients
1

cup

dry farro (cooked according to package directions)
Marinade
2

tbsp

dark balsamic vinegar

2

tsp

liquid smoke

2

tsp

soy sauce or tamari

2

tbsp

olive brine

3

sprigs

fresh rosemary, chopped
Roasting Ingredients
2

cups

chopped cauliflower

2

cups

purple or black grapes sliced in half lengthwise

6

oz

chopped mushrooms (shiitake, portabella, oyster all work well)

6

cloves

garlic, peeled and sliced in half lengthwise

2

shallots, peeled and sliced in half lengthwise

1/2

cup

pitted, green, Sicilian olives (or olives of choice)

1

bunch

asparagus, ends removed and chopped in 1-2 inch pieces
Serving
2

cups

cooked farro

2

tbsp

reserved marinade

1

tbsp

balsamic vinegar

1/3

cup

chopped hazelnuts (optional)

pinch of red pepper flakes (optional)
Instructions
Marinade
Combine all ingredients for the marinade in a measuring cup and set aside.
Roasting
Preheat oven to 450 degrees F.

On a lined baking sheet, place cauliflower, grapes, mushrooms, garlic, shallots, and olives.

Drizzle with 2 tbsp of marinade and reserve the rest for later.

Roast approximately 35 minutes and then add the asparagus and roast for another 10-15 minutes until vegetables are beginning to brown.
Serving
Toss roasted vegetables with cooked farro and remaining marinade. Drizzle with an additional 1 tbsp of dark balsamic vinegar if desired. Add red pepper flakes if using and top with optional hazelnuts.
Looking for other great farro dishes? Try these ultratruffle favorites:
Brussel Sprouts with Black Truffle Oil over Farro
Calabrian Minestrone with Farro
Parsley Lemon Thyme Vinaigrette over Grains