A Bit of History:
My latest culinary venture for Hot Honey Sage Vinaigrette revolves around Asian pears, specifically the Hosui Japanese variety. With a shape resembling an apple and a russet brown exterior skin, Hosui pears are exceptionally juicy. In Japanese, their name means sweet water. Asian pears, cultivated for over 3000 years in Japan and China, made their way to North America in the early 1800s. Interestingly, these delectable fruits gained a major foothold on the west coast during the 1850s California Gold Rush. Despite their long history, the Hosui variety is a relatively new type. It was developed in Japan in 1972 at a research facility that crossed hiratsuka and kosui pears. I am thankful to whomever was on duty in the lab that day, as these pears are delicious!
About the Recipe: Hot Honey Sage Vinaigrette
In today's dish, hot Habanero honey balances the sweetness of Asian pears and brings a little heat to the roasted parsnips and pecans. Incorporating hot honey, fresh sage, and lemon into the vinaigrette enhances the flavor of the parsnips and pears. Crunchy toasted Georgia pecans and popped whole grain sorghum provide a wonderful crunch to round out the textures. If you can grab a few pears and parsnips at your local farmer's market this is an easy, elegant salad perfect for a weeknight healthy meal or as a wonderful addition to your next dinner party.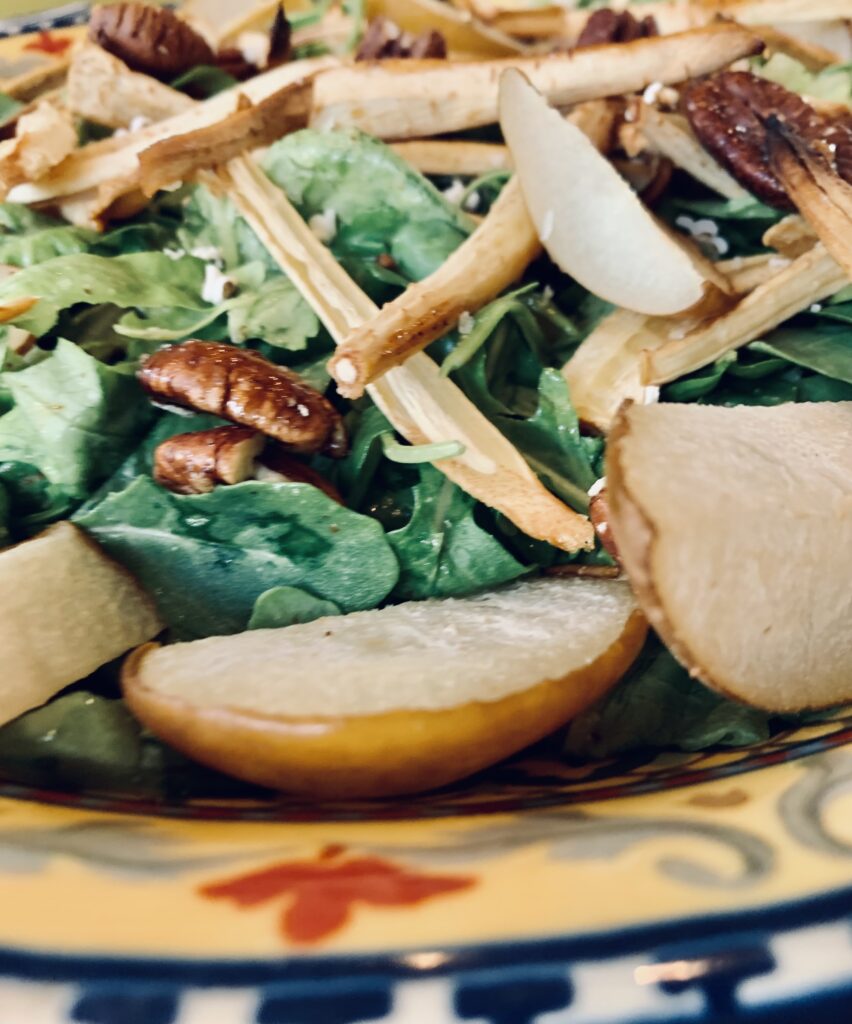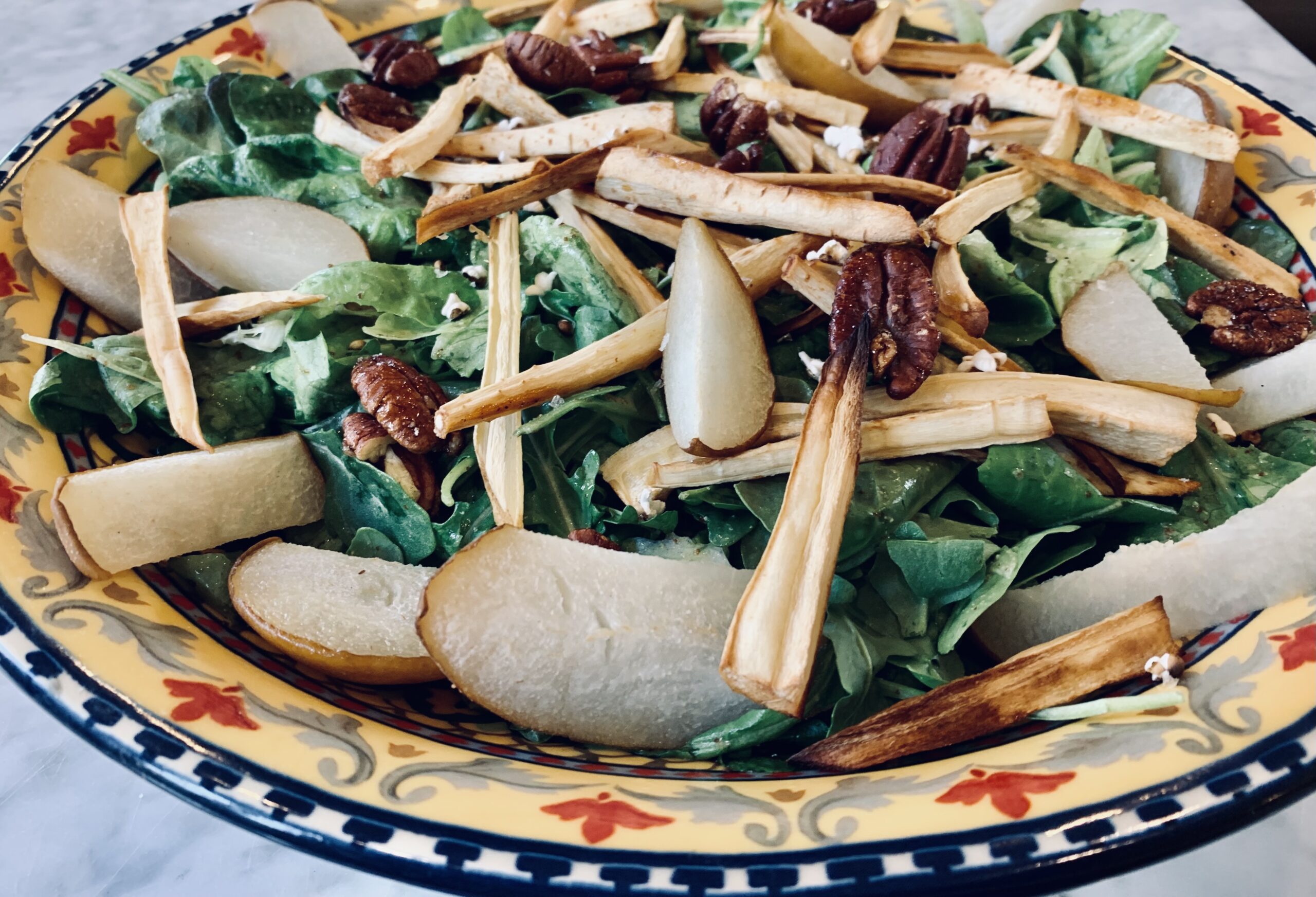 Hot Honey Sage Vinaigrette with Roasted Pears, Parsnips, & Pecans
A delightful blend of spice, sweetness, and earthy sage. Mixed greens topped with roasted Asian pears, hot honey drizzled parsnips, freshly roasted pecans and finished with pan toasted sorghum.
Ingredients
Hot Honey Sage Vinaigrette
1

tbsp

hot honey (I use Habanero infused honey)

1

tbsp

regular honey

10

fresh

sage leaves

3/4

cup

water

2

tbsp

Dijon mustard

1

tbsp

apple cider or white vinegar

1

lemon juiced

salt to taste
Pear Parsnip Pecan Salad
3

Asian pears sliced

2

tbsp

hot honey

5

small

parsnips, peeled and thinly sliced

1

cup

raw pecans

1/4

cup

dry sorghum

1

tsp

oil

Mixed greens of choice for salad base
Instructions
Hot Honey Sage Vinaigrette
Combine water, 1 tbsp hot honey, 1 tbsp of regular honey and fresh sage leaves in a small saucepan.

Heat over medium until simmering. Cook 15 minutes at a very low simmer. Remove from heat and cool for 10 minutes.

Add honey sage mixture to a blender with the mustard, vinegar, lemon juice, and salt. Process until smooth. Set aside.
Roasted Pears, Parsnips and Pecans
Heat oven to 400 degrees.

Toast pecans on a baking sheet lined with silicone or parchment 7-8 minutes. Remove from oven and drizzle with 2 tsp of hot honey. Return to oven for 1-2 minutes to finish toasting until golden brown. Keep a close eye of pecans as they can burn quickly.

Toss prepared pears and parsnips with the remaining 4 tsp of hot honey. Roast in oven for approximately 40-45 minutes until tender. Remove from oven and allow to cool slightly.
Toasted Sorghum
Heat oil in a cast iron skillet over medium-high heat. Add dry sorghum. Toast until most of the sorghum has popped into what looks like mini popcorn. Remove from heat.
Salad Composition
Toss with mixed greens with half of the vinaigrette. Taste and add more vinaigrette and salt and pepper to taste. Add toasted pecans, pears, and parsnips and toss again. Top each salad with toasted sorghum before serving.
Looking for easy, great salads? Try these other Ultratruffle favorites:
Strawberry Hazelnut Salad with Basil, Mint, Cucumber Vinaigrette
Farmer's Market Fattoush Salad