A Bit of History:
Six thousand years is a long time to wait! According to Chinese mythology, the immortals gathered once every 6000 years to partake of the Feast of Peaches. They consumed peaches from a sacred tree that blossomed only once every 1,000 years and took 3,000 years to ripen. Peaches, believed to confer longevity, they symbolize unity and immortality in Chinese culture. Thankfully, you won't have to wait that long for this easy salad featuring peaches and a Basil, Leek, Miso Vinaigrette.
Peaches have a long history, beginning approximately 1,000 BCE, when they were first cultivated in China. Traveling westward along the silk road, peaches eventually made their way to Greece with Alexander the Great. As Rome's power increased, they adopted many aspects of Greek culture including the cultivation of peaches. Romans referred to peaches as a Persian apple. Like many other traditions and products, invading Romans introduced the peach throughout their vast European empire. The Spanish, in turn, brought the peach to the Americas. Today, China and Italy are still the largest producers of peaches!
About the Recipe: Basil, Leek, Miso Vinaigrette
I eagerly look forward to peach season in SC every year. I credit my fondness of peaches to my mom. She often tells a story of consuming an entire bag of peaches at a Georgia farmer's market during her pregnancy with me. Today, I patiently line up at various farmer's markets to bring home buckets brimming with peaches. Usually, the ripest ones are eaten on the spot! I love incorporating them into breakfast bowls, sauces, salads, and beverages. For this recipe, I paired the delicate sweetness of peaches with miso and basil for a delightful sweet and savory combination. This is a very easy, healthy, fresh vinaigrette to prepare and perfect for a summer salad or add grains and serve as a main meal. Simply toss together vinaigrette, peaches, arugula, radicchio, mixed greens, cucumbers, radishes, and top with soy sauce roasted almonds for a salty crunch.
---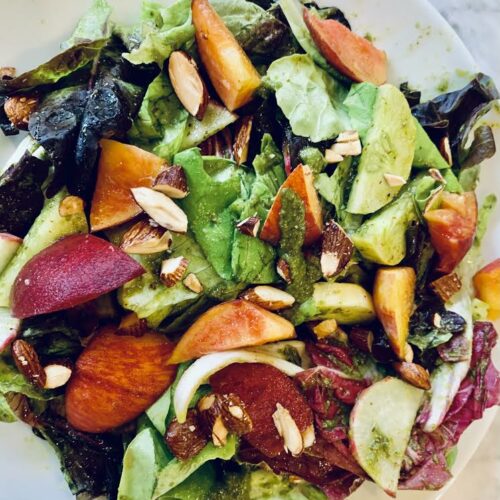 Basil, Leek, & Miso Vinaigrette
Mixed greens topped with fresh peaches, soy sauce roasted almonds, cucumbers, radish drizzled with a fresh basil, miso, baby leek vinaigrette. Healthy, fresh, plant-based, vegan and easy!
Ingredients
Vinaigrette
1 1/2-2

cups

fresh basil leaves

2

tbsp

dijon mustard

1

tbsp

miso paste (I typically use red.)

2

baby leeks (or 1 large) trimmed and roughly chopped

1/2

lemon juiced

salt and pepper to taste
Salad Components
3

fresh peaches sliced

1/2

cup

soy sauce roasted almonds*

2

small cucumbers diced

1

cup

radish slices
Instructions
Vinaigrette
Combine vinaigrette ingredients in a blender. Process until smooth.

Taste and adjust seasonings. If vinaigrette is too thick add a bit of water until reach desired consistency.
Salad
Use your favorite mixed greens or arugula. Toss with vinaigrette. Top with peaches, cucumbers, radish, and crushed soy sauce roasted almonds. For a main entree salad, add your favorite grain such as farro, kamut, or wheat berries.
Notes
*To make almonds heat oven to 350 degrees F. Place almonds on a lined baking sheet and roast for 10-15 minutes until lightly browned. Remove from oven and drizzle with 1 tablespoon of low sodium sauce. Return to oven for 1 minute. Remove from oven and cool to room temperature. As the almonds cool they will dry.
Looking for some other great salad recipes? Try these Ultratruffle favorites:
Farmer's Market Fattoush Salad
Basil Mint Cucumber Dressing over a Strawberry Hazelnut Salad
Melon Salad with Fresh Mint and Lime Juice