---
A Bit of History
During my research for this post, I uncovered some very interesting broccoli facts. In England, broccoli was dubbed "Italian asparagus" after its introduction via Italian immigrants in the 1700s. Despite its recent debut in Europe, evidence suggests that broccoli cultivation began in the 6th century BCE. Starting in the Mediterranean area and then spread via the Romans during their multiple empire expansions. Even Thomas Jefferson tried his hand at broccoli farming in the gardens at Monticello, using seeds brought to the USA from Italy!
About the Recipe: Easy Mediterranean Broccoli Salad
Ok, raise your hand if you knew you could use and eat most of the stem of the broccoli plant. If you are like me, I have been throwing everything out except the top of the "trees" for years. Interestingly, I really enjoyed broccoli much better by eating and using more of the plant. This Easy Mediterranean Broccoli Salad recipe makes a great addition to your meal prep plans to use for lunches throughout the week. Simply, mix the ingredients together and allow to marinate in the refrigerator. Then, divide into individual servings sizes for lunches or a quick dinner. In addition, you can incorporate your favorite cooked grains, such as wheat berries, farro, wild rice, or quinoa for a more filling meal. Not to be outdone, this salad also tastes great as a sandwich stuffed in pita bread or rolled into your favorite wrap.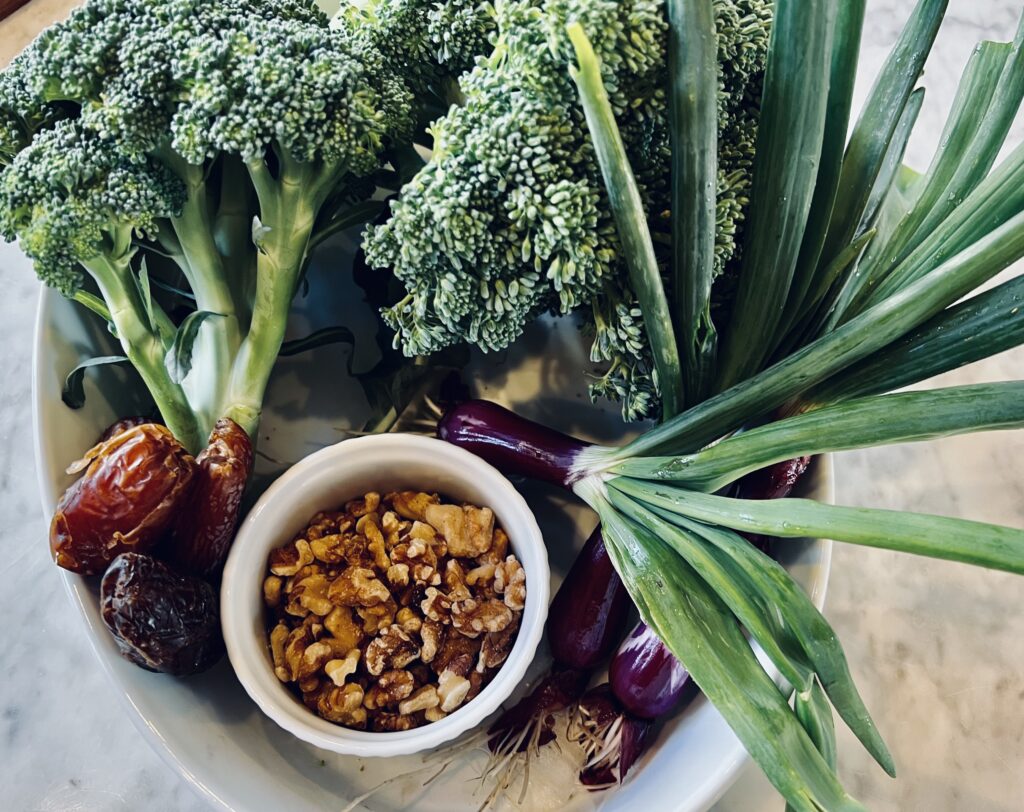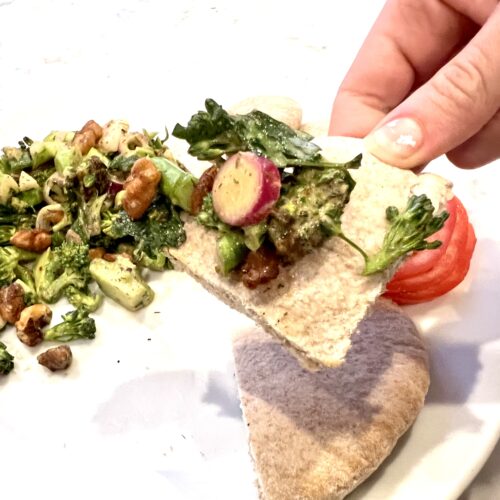 Easy Mediterranean Broccoli Salad
An easy plant-based broccoli salad recipe with Mediterranean spices that is perfect over grains, stuffed in pita bread, or rolled in your favorite wrap. Make once for easy lunches or dinner option throughout the week.
Ingredients
7

cups

broccoli, chopped florets and stems

1/2

cup

radish, chopped

3/4

cup

red onion, chopped

1/2

cup

fresh parsley, chopped

3

Medjool dates, pitted and chopped

1

lemon, juiced

1

tbsp

dried dill

3

tbsp

red wine vinegar

1/4

cup

Dijon mustard

1

tsp

salt

1/2-1 1/2

tsp

Aleppo pepper (can substitute 1/4-1/2 tsp of red pepper flakes)

1/4

cup

walnuts, toasted* (optional can toast with 1 tsp liquid smoke see notes)
Instructions
Remove the tough ends of the broccoli stems and leaves and discard. Chop the remaining portions of the florets and stems. The stems provide a wonderful crunch in this salad.

Mix all ingredients together in a large bowl and allow to marinate. Start with the lower end of the Aleppo pepper spice range and add more after tasting. This salad tastes better after marinating overnight in the refrigerator.

If toasting walnuts, heat oven to 350. Place walnuts on a lined baking try and roast for 10 minutes. Remove from oven once golden brown and toss with salt and 1 tsp of liquid smoke. Cool before adding to salad.
Serving Suggestions
Add to your favorite cooked grains such as farro, wild rice, kamut, or pasta.

Stuff pita or your favorite wrap for a quick sandwich.

Add to a lettuce based salad for a light lunch.
Helpful Tools & Ingredients
I use Aleppo pepper, named after the Syrian city, in a lot of my recipes. I love its flavor profile of chili peppers and paprika. Since, Aleppo pepper also has a medium heat level, about half that of traditional red pepper flakes, it doesn't overpower the dish. Always start with the lower end of the range and add more to your particular taste.
Looking for more easy meal prep ideas? Try these other Ultratruffle favorites:
Mason Jar Salad with Fennel & Green Garlic Pesto
Recipe originally inspired by broccoli salad from Love and Lemons.