A Bit of History:
I happen to know the muffin woman very well, as she is my great-aunt Carol. As a child, whenever we visited her home she always made me blueberry muffins, which I considered her secret super power. Each time I enjoy one of these delectable treats, I think of my auntie and how amazing food memories are. My recipe today for Blueberry Super Power Muffins, honors not only my Aunt Carol, but also packs a powerhouse of nutrients to keep you fueled in your super endeavors.
Recipes for quick bread muffins (not containing yeast) date back to the 1800s, but I guarantee these muffins won't last long in your house!
About the Recipe: Blueberry Super Power Muffins
Personal notes aside, blueberries boast their own super power with a mega amount of antioxidants. Antioxidants neutralize free radicals in our bodies that cause damage to our DNA, thereby assisting in disease prevention. In addition to blueberries, my muffin recipe incorporates super foods like whole grains (oats, wheat berries or gluten-free wheat flour, and quinoa) and flax. Most quick bread muffins are loaded with refined sugars and fats. In lieu of eggs and butter, un-sweetened apple sauce binds these delicious muffins together. Blueberry puree or jam if you prefer and honey provide a little extra sweetness. (Please note, I have not tried this recipe with maple syrup or other vegan sweeteners. If you give it a whirl, let us know in the comments.)
This recipe requires mere minutes to mix together and bakes in 40 minutes. Better yet, the muffins store well in the refrigerator and freezer! When you need a snack or a quick breakfast, simply re-warm or serve at room temperature.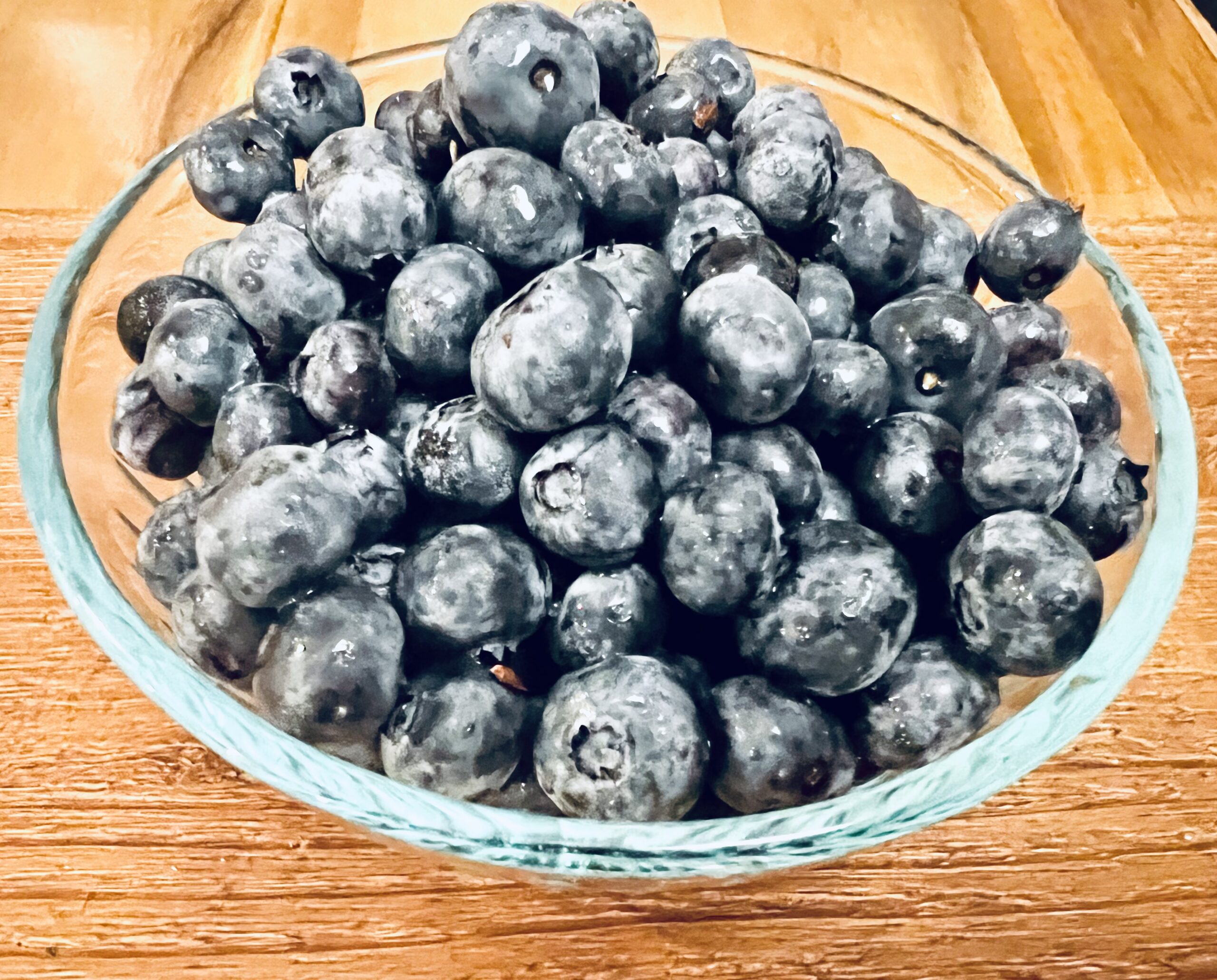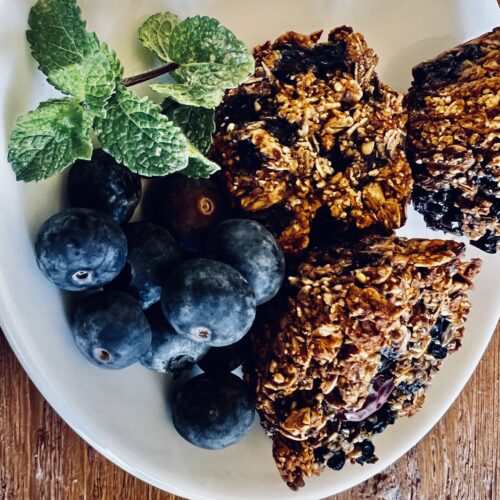 Blueberry Super Power Muffins
Plant-based, gluten-free adaptable, oil-free and packed with whole grains and fruit. These muffins are great for a quick grab and go breakfast or snack and will keep you fueled. Easy to make and store well in the refrigerator or freezer!
Ingredients
3

cups

oats (use gluten-free if desired)

1/2

cup

wheat berries or gluten-free wheat flour

1/2

cup

cooked quinoa or quinoa flour

1 1/2

tsp

baking soda

3/4

tsp

salt

1

tsp

cinnamon

2

tbsp

ground flax seed (use gluten-free if desired)

1

orange

juiced (approximately 1/3 cup to make flax egg)

1/3

cup

unsweetened apple sauce

2/3

cup

honey

2/3

cup

blueberry or mixed berry jam (for lower sugar muffins use fruit puree)

3

cups

fresh or frozen blueberries

1/4

cup

water
Instructions
Preheat oven to 350 degrees F.

Line 2 muffin tins with silicone muffin liners or foil muffin liners.

Combine flax and 1/3 cup of orange juice in a cup and let stand 5 minutes to create a flax egg.

In a blender process wheat berries if using until you have a smooth flour.

Combine oats, ground wheat berries or gluten-free wheat flour, quinoa, baking soda, salt, cinnamon, flax mixture, honey, jam, applesauce, blueberries, and 1/4 cup of water in a large bowl. Stir to combine.

Scoop 1/4 cup of mixture into each muffin cup. Bake for 40 minutes.

Allow to cool completely before removing muffin liners.

Store in refrigerator or freezer. Reheat if desired before serving.
Looking for some other great breakfast ideas? Try these Ultratruffle favorites:
Citrus Raspberry Poppyseed Muffins
One-Bowl Pumpkin Nut Breakfast Cookies