About the Recipe
Why spend time flipping pancakes over the hot griddle when you make them all at once in this easy recipe? Even better, Sheet Pan Pear Pancakes, store well in the freezer providing a quick toast and go breakfast for the rest of the week. Breakfast meal prep done and dusted!
A Bit of History
Experts believe D'Anjou Pears, known for their buttery citrus flavor, originated in Belgium or France. This particular variety, with its beautiful green skin, made its way to the USA in the mid 1800s. Bostonian Marshall P. Wilder takes the credit for first growing D'Anjou pears on his estate. However, while the USA is the largest pear grower worldwide, the majority of pears hail from the Pacific Northwest instead of Boston. Wherever they grow on USA soil, pears are harvested by hand. Despite its similarity in color to Granny Smith apples, green D'Anjou pears, boast a delectable sweetness. In fact, they compose the pear puree found in Jelly Belly pear flavored jelly beans! If they are sweet enough for candy then they will definitely fit the bill for a wonderful pancake breakfast.
Preparation
Sheet pan pancakes come together in a snap and are a great recipe to make as a family. For this recipe, I like to use a mixture of oats, millet, and wheat berries. Instead of loading my family up with refined sugars, I like to use Medjool dates and banana to sweeten the batter. Adding a bit of fresh orange or tangerine juice and zest draws out the citrus essence of D'Anjou pears perfectly.
Simply add the components for the batter to a blender and process until smooth. You will want to start by blending the oats, millet, and wheat berries into a flour like consistency. Then, add the remaining batter ingredients and blend again. Next, combine the chopped pears with a bit of cinnamon and maple syrup/honey and toss to coat. Finally, pour the batter into a lined baking sheet (parchment paper works great) and top with spiced pears before popping the tray in the oven. After baking, serve with toasted pecans, orange slices, and additional maple syrup if desired. For a crispier texture, we like to toast our slices in the air fryer or toaster for a few minutes before adding toppings and serving.
I like to slice the whole tray of pancakes and wrap individual servings for the freezer. They make a great, easy, toast and go breakfast for hectic weekday mornings.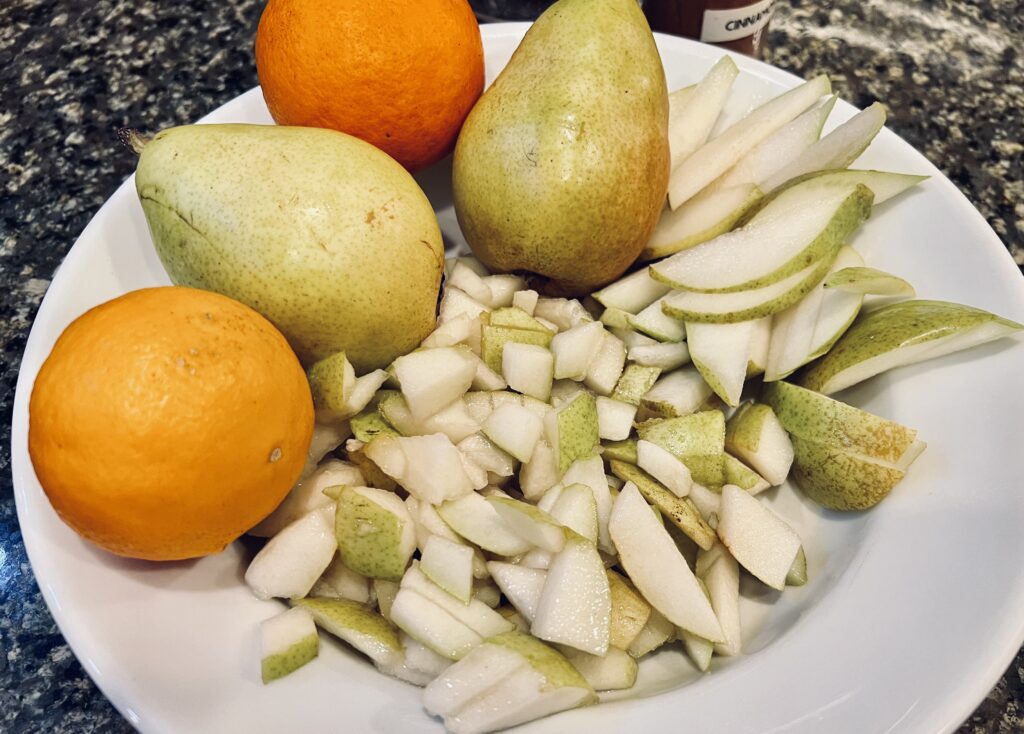 The amazing pears for this recipe were provided by Rainbow Packaging, specializing in freshly harvested and selected produce delivered to your door.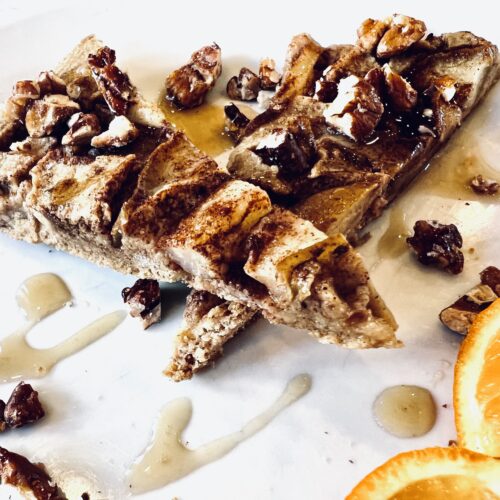 Sheet Pan Cinnamon Pear Whole Grain Pancakes
Why flip tons of pancakes when you bake once and have breakfast all week? Delicious whole grain pancakes sweetened with dates and topped with cinnamon/clove pears and toasted pecans. Kid friendly, healthy, and easy!
Equipment
Blender

Parchment Paper Lined Sheet Pan (approximately 14 x 9)
Ingredients
3

cups

oat milk (I like to use unsweetened vanilla for this recipe, can substitute non-dairy milk of choice)

1

small

orange or tangerine zested and juiced

8

Medjool dates, pitted

1

tbsp

apple cider vinegar

2

cups

old fashioned oats (use gluten free if desired)

1/2

cup

millet

1/2

cup

wheat berries (substitute with millet if gluten sensitive)

1

banana

1

tsp

baking soda

1/2

tsp

salt

2

tsp

cinnamon

1

tsp

ground cloves
Spiced Pears
4

pears, chopped

1

tbsp

maple syrup (more for serving if desired)

1

tsp

cinnamon
Topping
1/2

cup

toasted pecans

maple syrup
Instructions
Preheat oven to 425 degrees F. Line a baking sheet with parchment paper (mine is approximately 16 inch).

Combine oat milk, orange juice and zest, dates and vinegar to a large measuring cup and let sit 5 minutes.

Process oats, millet, and wheat berries in a blender until you have a flour like consistency.

Add milk mixture, baking soda, salt, 2 tsp cinnamon, cloves, and banana to the blender with the whole grain flour.

In a separate bowl combine 1 tsp cinnamon, chopped pears, and 1 maple syrup. Toss to coat pears.

Pour batter into lined baking sheet. Top with pear mixture.

Oven temperatures can vary, so I like to start checking these at 30 minutes. Bake at 425 degrees for approximately 40 minutes until cake tester comes out clean. Allow to cool for 5-10 minutes before cutting.
Serving Suggestions
We like to serve our sheet pan pancake slices topped with toasted pecans, a drizzle of maple syrup or vegan caramel sauce, and fresh fruit. To reheat or for crispier texture toast pancake slices in air fryer or toaster before topping and serving.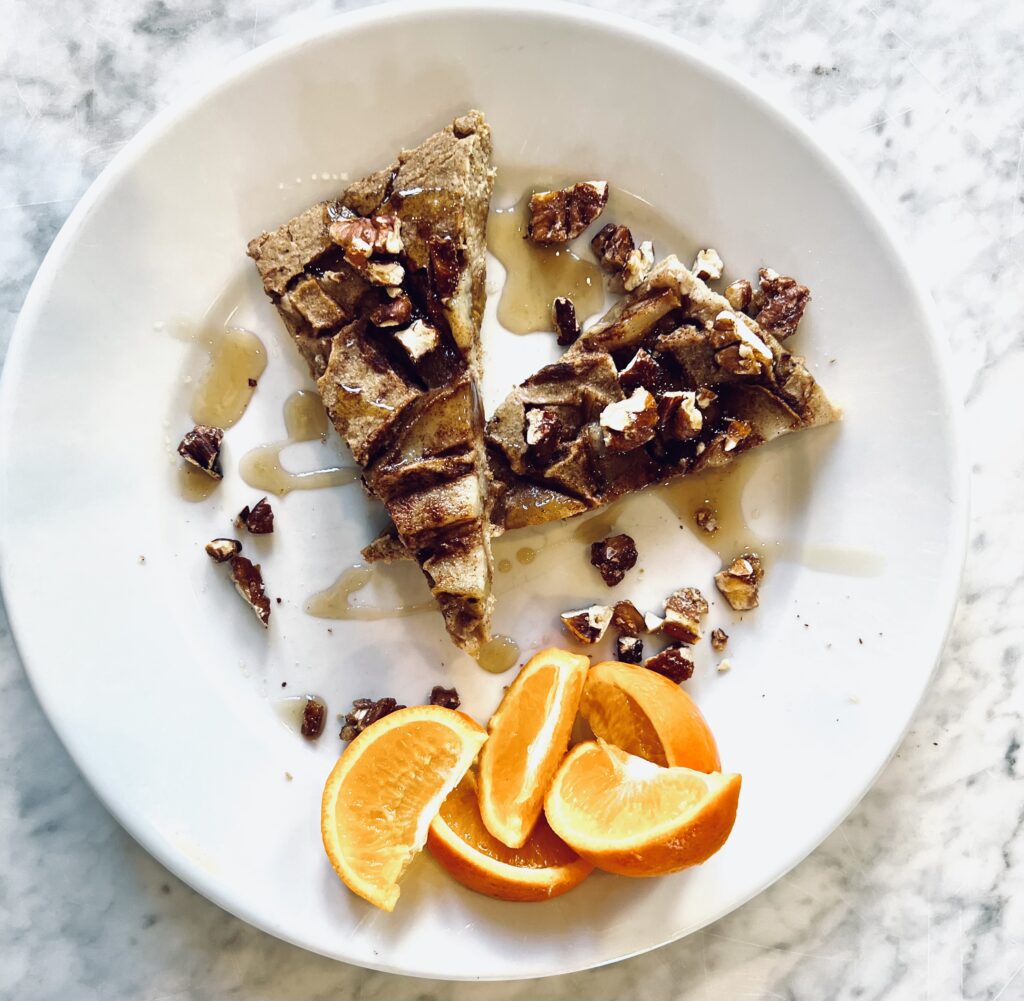 Looking for other breakfast ideas or have a lot of pears to use? Try these Ultratruffle favorites:
Overnight Spiced Pear Butter with Oat Milk Pancakes
Buckwheat Waffles with Raspberry Syrup