A Bit of History:
Who would suspect that the delicious, beautiful strawberries featured in my Easy Strawberry Fruit Bars are steeped in cloak and dagger intrigues? Nonetheless, modern day strawberries owe their existence to a French spy. King Louis XIV sent Amédée-François Frézier to Chile in 1712, posing as a tourist, to spy on their military assets. In addition, Frézier had botanical assignments to document the local plants and animals during his trip. He also packed away some samples of a larger strawberry he encountered during his "tourist trip." In contrast, strawberries from the Americas boasted huge sizes compared to the wild strawberries growing in Europe's forests. European gardeners quickly cultivated the Chilean strawberry with another species from North America resembling the fruit we eat today. Eventually, the hybrid crossed the Atlantic once again and took root in the Americas.
About the Recipe: Easy Strawberry Fruit Bars
In my house, I am always searching for a healthy snack for myself and my family. I love when I can craft an easy snack recipe, in lieu of processed snacks packed with additives and high fructose corn syrup. My recipe contains whole grain oats, semolina flour, and is sweetened with honey. Apple sauce/butter and tahini provide the glue to hold it all together; replacing any oil, butter, or eggs. Despite of its complicated history, this recipe comes together in a snap. Simply, combine the dry ingredients, melt the wet ingredients, and stir. Press the oat mixture into a prepared pan, top with fresh fruit, and bake. In just 30 minutes these beautiful bars will be coming out of your oven too!
Allow the bars to completely cool before cutting. Store bars in the refrigerator or freezer. We like to warm ours up in the air-fryer or convection oven for a crispier texture.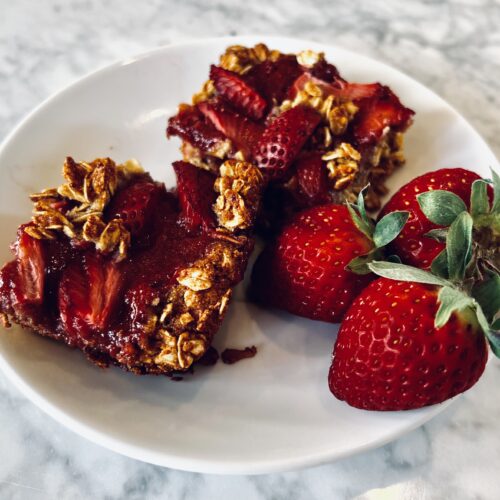 Easy Strawberry Fruit Bars with Whole Grains
Skip the processed bars, and make these delicious, healthy fruit bars featuring oats, fresh strawberries, and sweetened with apple butter/sauce and honey. Easy, less than 30 minute recipe!
Equipment
Baking pan approximately 9×13
Ingredients
3

cups

old fashioned oats

3/4

cup

semolina flour

2/3

cup

honey (substitute if vegan)

2 1/2

tsp

baking powder

1 1/2

tsp

baking soda

1/2

tsp

salt

1/3

cup

apple butter or un-sweetened apple sauce

2

tbsp

tahini

1 1/2

cups

strawberry jam

3

cups

fresh strawberries, sliced (or thawed frozen strawberries)
Instructions
Preheat oven to 350 degrees F.

Combine oats, flour, salt, baking soda, and baking powder in a large bowl.

In a separate small bowl, add honey, tahini, and apple butter. Microwave for 15-30 seconds and stir to combine.

Pour honey mixture over the dry ingredients and stir until combined.

Spray a 9×13 baking pan with olive oil. Press remaining oat mixture into the bottom of the prepared pan.

Spread a thin layer of jam on top of the pressed oat mixture.

Scatter sliced strawberries on top of jam-covered oat mixture.

Bake for approximately 25-30 minutes until the edges are golden brown. Allow to cool completely before cutting. I like to cool mine in the refrigerator for a few hours before cutting.

Store bars in the refrigerator or freezer. For crispier bars, toast in the air-fryer or conventional oven before serving.
Looking for some other great, easy recipes? Try these Ultratruffle favorites:
Healthy Chocolate Caramel Brownies
Kid's Smaug Smoothie with Dragonfruit
Strawberry Salad with Basil, Mint, Cucumber Dressing