A Bit of History:
Back in the early 1970s, a "veggie burger" indicated a meat patty topped with a few token vegetables. However, in the early 1980s, changes appeared on the culinary horizon. While disputes rage over who deserves credit for the first veggie burger. Both the Smithsonian Magazine and Wikipedia, recognize Gregory Sams as one of the leaders in this sandwich revolution. Sams and his brother operated a vegetarian and natural food restaurant in London since the 1960s. In 1982, they released their product, VegeBurger, a dehydrated mixture that could be formed into a patty and cooked. In sharp contrast to the 1970s, researchers estimate that today 22% of the global population are vegetarian. We love cooking burgers on the grill and in the oven at home, especially this recipe for Easy Veggie Burgers!
About the Recipe: Easy Veggie Burgers
As the weather begins to warm, I crave foods that I associate with summertime grilling, especially veggie burgers. However, sometimes I enjoy a veggie burger without beans. These Easy Veggie Burgers definitely fit the bill for simple preparation, delicious taste, a fabulous sauce, and able to be cooked in multiple ways. Simply pulse beets, herbs and spices, garlic, and onion in a blender. Then, combine with cooked rice, panko or breadcrumbs, and oats. Next, form patties and bake in the oven. If desired, finish burgers by grilling, pan-searing, or crisping in an air-fryer. Lastly, slather with an easy 10-minute Spicy Cilantro Sauce and your favorite toppings. We like to serve these with crisp julienned carrots and pea green tendrils.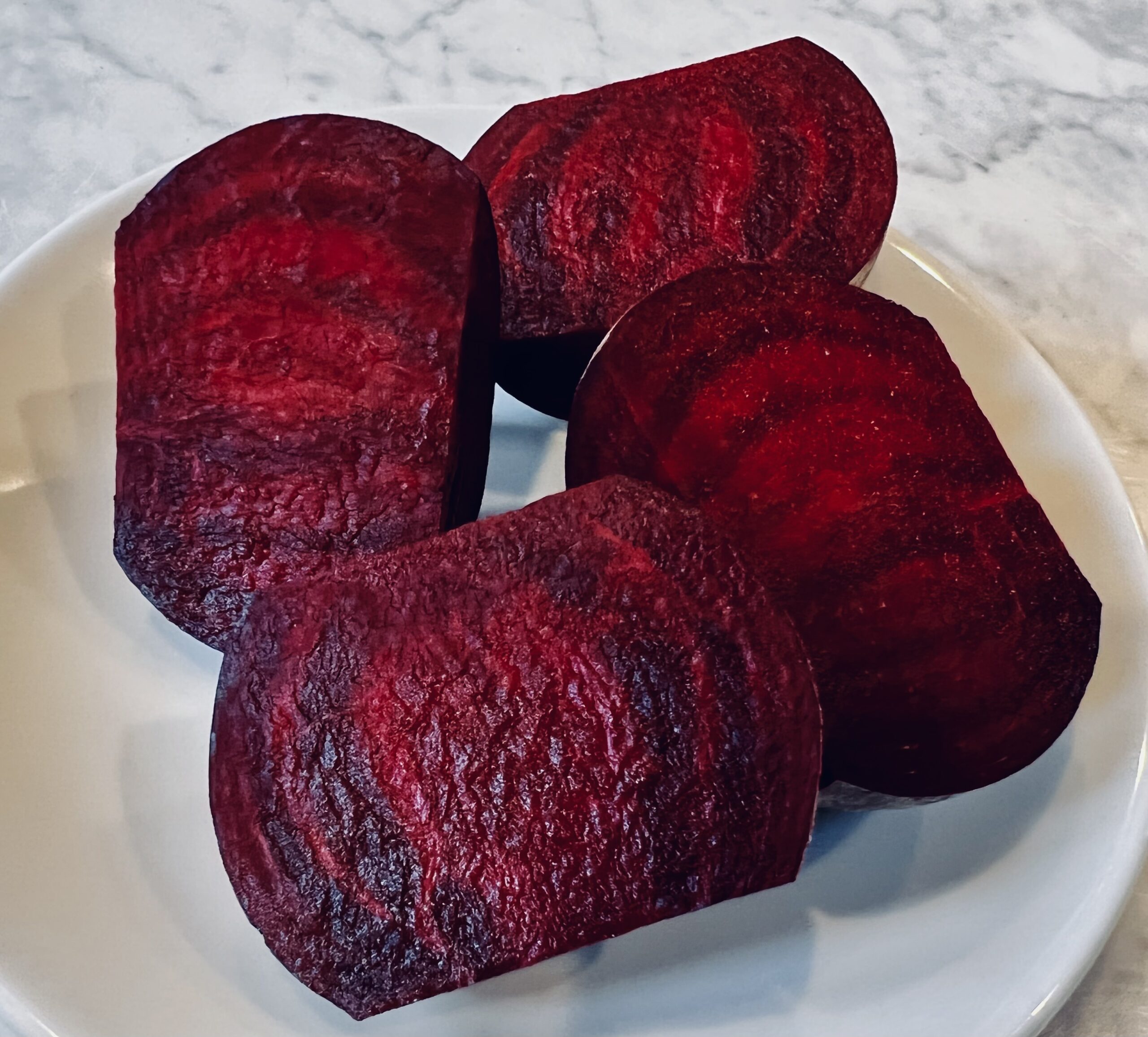 Another great side option to accompany these veggie burgers are black radish chips. Simply, cut black radish into thin slices, spray with a bit of olive oil or veggie broth, and toss in the air fryer for 10-15 minutes. Add a sprinkle of salt or your favorite seasoning for a healthy snack or serve alongside veggie burgers.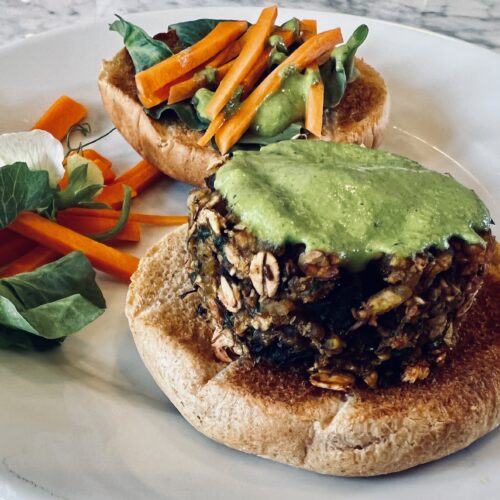 Easy Veggie Burgers (No Beans) with Spicy Cilantro Cream
A wonderful, easy veggie burger packed with whole grains, beets, onions, garlic, and spices. Served with Spicy Cilantro Cream sauce. Perfect for grilling, baking in the oven, or pan frying.
Equipment
Blender

Lined baking sheet
Ingredients
Veggie Burgers
2 1/4

cups

cooked rice (I like to use arborio or bomba rice).

1

cup

rolled old-fashioned oats

1/2

cup

panko or breadcrumbs

2

cups

roasted beets, cubed

2

tbsp

ground flax seed

1/3

cup

water

3

cloves

garlic, peeled

4

stalks

green onion, sliced (or substitute 1/2 yellow onion)

1 1/2

cups

chopped fresh parsley

1

tsp

soy sauce

1

tsp

liquid smoke

1

tsp

baking soda

2

tbsp

sesame seeds (optional)

1

tbsp

Aleppo pepper

salt and pepper to taste
Spicy Cilantro Cream
1/3

cup

cashews

1 1/2

cups

fresh cilantro

2

whole Calabrian chilis or 1-2 tsp of chopped chilis to taste.

1

lime, juiced

salt to taste
Instructions
Veggie Burgers
Pre heat oven to 350 degrees F.

Mix ground flax seed and 1/3 cup of water and let sit for 5 minutes.

To a large bowl, add cooked rice, oats, sesame seeds if using, and panko.

To a blender add flax egg, roasted beets, garlic, onions, soy sauce, liquid smoke, baking soda, parsley, and Aleppo pepper. Pulse a few times. You want the mixture to be chunky and not pureed.

Transfer mixture from the blender to the bowl with the cooked rice, oats, and panko and stir to combine.

Spray a 1/3 sized measuring cup with a bit of olive oil. Using the measuring cup, scoop veggie burger mixture and place each burger on a lined baking tray. Use the palm of your hand to gently and slightly flatten the burgers.

Bake 20 minutes on each side. Optional: after baking air-fry or pan-fry for a minute or two for extra crispiness. Serve with cilantro cream sauce!

Store leftover burgers in the refrigerator or freezer.
Spicy Cilantro Cream Sauce
Soak cashews in hot water for 10 minutes. Drain.

Add drained cashews and remaining ingredients to a blender. Process until smooth. If needed add a bit of water to get the blades moving.

Store sauce in the refrigerator until ready to use.
Notes
*If roasting beets at home: remove ends of beets and wrap each beet in foil. Roast in oven at 450 degrees until easily pierced by a fork.
*To cook arborio rice: Add 1 cup of dry rice to a large pot. Add 8 cups of water and 1 tsp of salt. Bring to a boil. Reduce heat and simmer for 18 minutes. Drain.
To save time, you can purchase roasted beets and microwavable rice.
Looking for some other great grilling recipes? Try these other Ultratruffle favorites:
Vegan Paella with mushrooms and spicy chorizo
Grilled Scallion Vinaigrette with vegetables