About the Recipe: Creamy Roasted Summer Tomato & Eggplant Soup
Sometimes, even in the middle of summer, I crave a bowl of comforting, fresh tomato soup. I especially love this Creamy Roasted Tomato Soup on a rainy day or the frequent tropical stormy weather we have in the South! Summer is the perfect time to roast some fresh tomatoes and eggplant and blend for a creamy, fresh soup. My favorite varieties of tomatoes are heirlooms and sun gold cherry tomatoes. I tend to go a bit crazy when they become available in the summer.
You will find hundreds if not thousands of recipes for tomato soup in cookbooks and on the Internet. However, what I love about this version, is it is simple, fresh, healthy, and does not contain oil or coconut milk. This less than 30 minute soup recipe highlights the beautiful flavors and colors of summer produce. My kids beg for this dish for lunch alongside hummus pita bread sandwiches. Elevate the dish and serve as a main course for dinner with green garlic risotto crackers.
---
---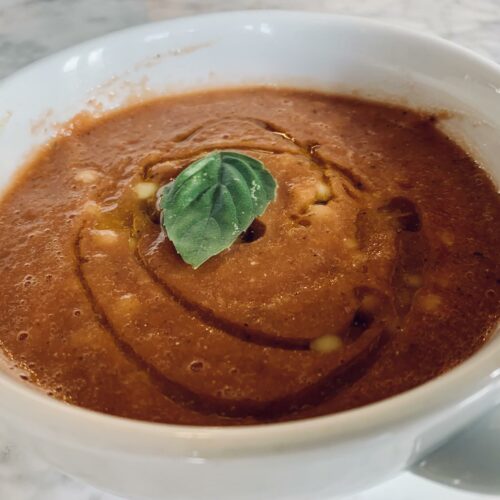 Creamy Roasted Tomato & Eggplant Soup
A creamy summer soup featuring roasted fresh baby eggplant, heirloom tomatoes, cherry tomatoes, garlic, onion, and fresh oregano. Pairs perfectly with toasted pita, baguette, or panini.
Ingredients
3

lb

fresh tomatoes (I use a mixture of heirloom and sun gold cherry tomatoes).

1

small

Japanese eggplant

1

head

garlic cloves peeled (10-12 cloves)

1-2

leeks (use 2 if they are small or 1 very large)

1/3

cup

nutritional yeast

1

cup

vegetable broth

1/3

cup

fresh oregano and basil

salt, black pepper, and red pepper or Aleppo pepper to taste

1

tbsp

apple cider or lemon vinegar

olive oil for serving (optional)
Instructions
Heat oven to 400 degrees.

Slice large tomatoes in half or thirds. Roughly chop leeks and eggplant.

Add sliced tomatoes, cherry tomatoes, roughly chopped leeks and eggplant, and peeled garlic to a roasting tray. Roast in oven for 20-25 minutes.

Remove from oven and transfer vegetables to a blender. Add herbs, broth, nutritional yeast, salt and pepper. Process until smooth. Taste and add vinegar and additional seasonings if needed.

Serve soup with toasted pita, baguette, or to accompany a sandwich. Drizzle with olive oil and garnish with fresh herbs if desired.
Looking for some other great soup recipes? Try these Ultratruffle favorites: