A Bit of History:
With over 200 varieties, plums grow on every continent except Antartica. In addition, historians believe plums number among the first human-cultivated fruits. Botanists classify plums as drupes or a stone fruit. While, a droopy salad never sounds appealing, my "drupy" recipe for Plum & Summer Vegetable Bulgur Salad might just change your mind!
Whenever I consider plums, visions of the Sugarplum fairy and the Nutcracker music drift across my mind. Due to my curious nature, I wondered why she was named the Sugarplum fairy? My research uncovered a wonderful article in Time magazine detailing the history and etymology of sugarplums. It turns out that around 600 years ago in England, the phrase "sugarplum" commonly referred to anything sweet and round. Over time, sugarplum and plums, evolved to refer to anything sweet or desirable, whether a situation or a dessert. Unfortunately, more modern terms relegated these phrases to the past. Thankfully, the enduring legacy of the Sugarplum fairy, aptly named as the queen of the Land of Sweets has stood the test of time.
About the Recipe: Plum & Summer Vegetable Bulgur Salad
Summer always brings almost more fruit than my family can reasonably eat in SC. Therefore, I am constantly challenging myself to concoct new and interesting ways to incorporate the bounty of summer fruits and vegetables. I absolutely love this combination of sweet, salty, and savory in this dish. The sweetness of the summer plums and pattypan squash complements the spicy radishes, Aleppo pepper, and garlic perfectly. A mixture of tahini and red miso paste add a depth of umami for a knockout flavor. This entire recipe comes together easily in less than 20 minutes!
In addition, I enjoy using bulgur for its quick cooking time and its nutty flavor. However, if you are gluten-sensitive, quinoa or wild rice would work extremely well.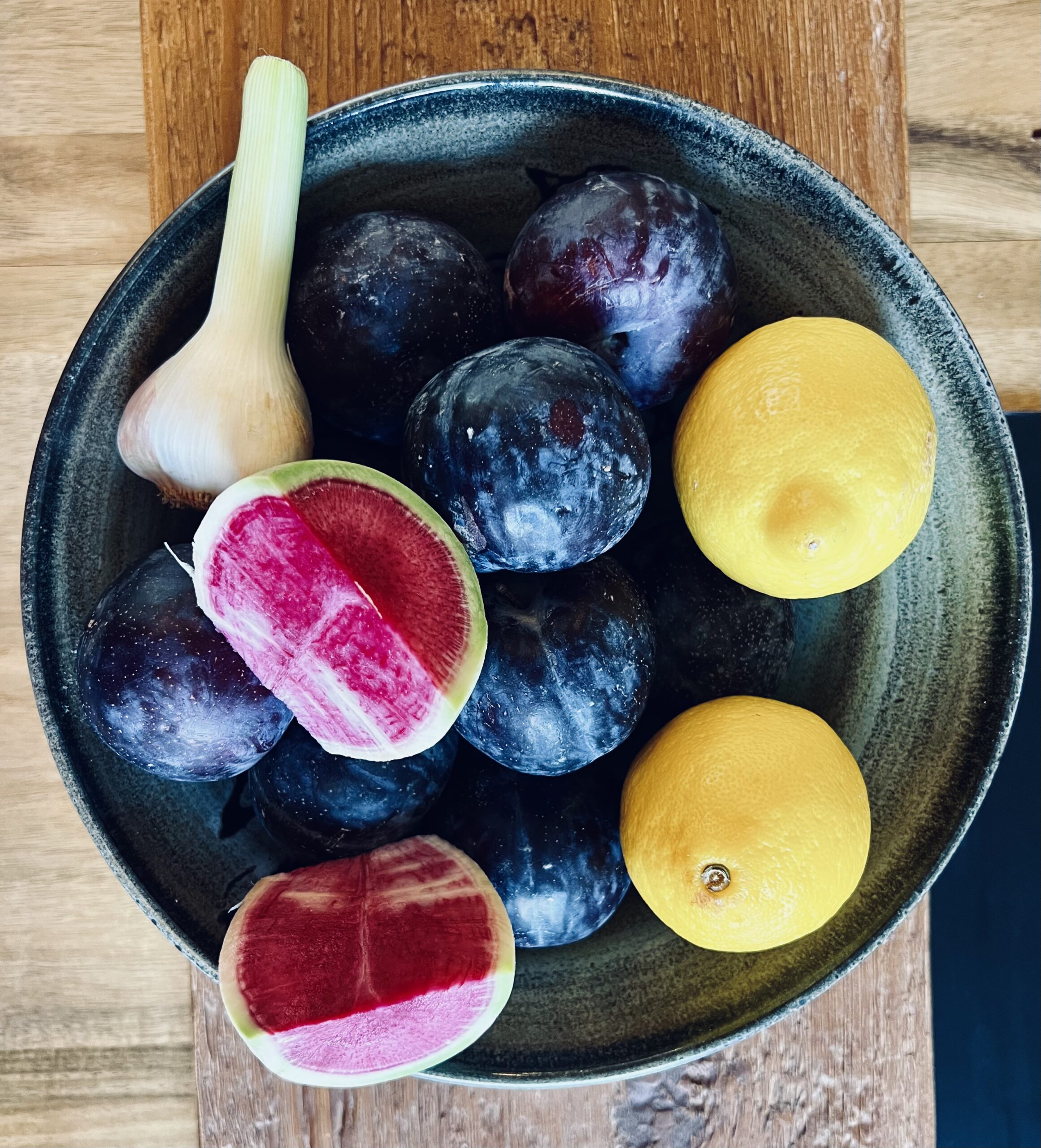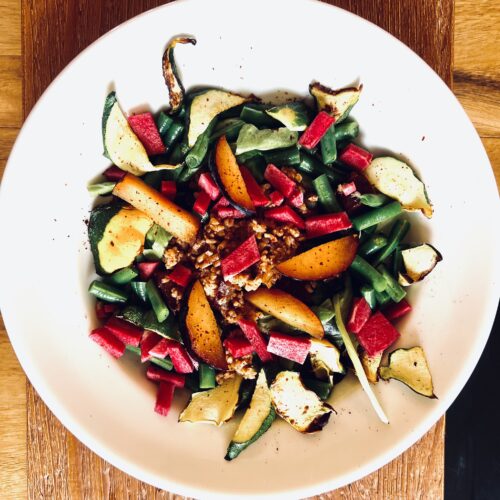 Plum & Summer Vegetable Bulgur Salad
A refreshing twist from traditional tabbouleh. This easy salad is ready 20 minutes and perfect for those hot summer evenings. Features plums, green beans, radish, pattypan squash, mixed greens, and bulgur and a umami packed dressing.
Ingredients
Sauce
4

plums

sliced

2

cloves

garlic, minced

2

scallions, sliced

1

tsp

hot pepper infused honey (substitute maple/date syrup if vegan)

1

tsp

red miso paste

1

tsp

tahini

1

tsp

Aleppo pepper (skip if sensitive to heat)

1

lemon

juiced

3

tbsp

water

1

tbsp

olive oil (substitute for water or additional lemon juice if oil-free)
Salad
6

cups

mixed greens

2

cups

cooked bulgur*

2

plums

sliced

2

cups

green beans, blanched and chopped**

4

small

watermelon radishes, sliced

4

small

patty pan squash, (air-fried or your preferred cooking method***)
Instructions
Cook bulgur per package directions.

See notes for blanching green beans and preparing pattypan squash.

Whisk together honey, miso, tahini, lemon juice, Aleppo pepper, and 3 tbsp of water and set aside.

To a shallow pan, add 4 sliced plums, sliced scallions, and minced garlic. Cook on medium-low heat for 4-5 minutes. Stir in miso sauce and immediately remove from heat.

Combine cooked bulgur with garlic, scallion, plum mixture and stir. Taste and adjust seasonings. Add 1 tbsp of olive oil or water/lemon juice and stir again.
Assembly
Prepare four bowls with 1 1/2 cups of mixed greens.

To each bowl add 1/2 cup of bulgur mixture.

Top each bowl with green beans, radish, pattypan squash, and raw plum slices.
Notes
*Cook bulgur per package directions. I use Bob's Red Mill Organic Red Bulgur that cooks in 10-12 minutes. If gluten-sensitive substitute with wild rice or quinoa.
**To blanch green beans. Boil a small pot of water. Add green beans to boiling water for 90 seconds. Drain and immediately plunge into a bowl of ice water. Drain green beans from ice water and slice.
***I like to air-fry my patty pan squash, but cook according to your preferences. You can even cook with with the plums, garlic, and scallions.
Looking for some other great salad recipes? Try these Ultratruffle favorites:
Rainbow Asian-Inspired Cabbage Salad
Farro Jar Salad with Roasted Beet Sauce
Easy Mediterranean Broccoli Salad
Roasted Pears, Parsnips, Pecan Salad with a Hot Honey Sage Vinaigrette