A Bit of History:
I freely admit that I eat like a hobbit! While I don't quite fit in all 7 daily hobbit meals, I do give it a solid go. The Hobbit and the Lord of the Rings have consistently topped my favorite book list since childhood. One of the most enjoyable chapters from the Hobbit centers around the dwarves popping into Bilbo's hobbit hole unexpectedly. Always gracious, Bilbo serves them a feast of food from his well-stocked pantry; including seed cakes. Today my recipe honors Bilbo with my version of a Sesame Seed Honey Cake. Coincidently, this easy cake tastes best when made a day or two in advance and is perfect to serve to any surprise visitors. Your guests will going "there and back again" to the serving platter for multiple slices!
About the Recipe: Roasted Grape Mixed Berry Compote
For this recipe, I love to roast grapes and mixed berries to create a sweet compote to top the seed cake. Adding a bit of miso paste really adds an amazing depth of flavor. Simply, place grapes and mixed berries on a lined baking sheet and roast in the oven with some honey for about 45 minutes. You can even use bags of frozen fruit and pop them straight in the oven! After roasting, pulse the fruit in the blender with some fresh citrus and miso. However, if you lack time, simply top the cake with your favorite jam.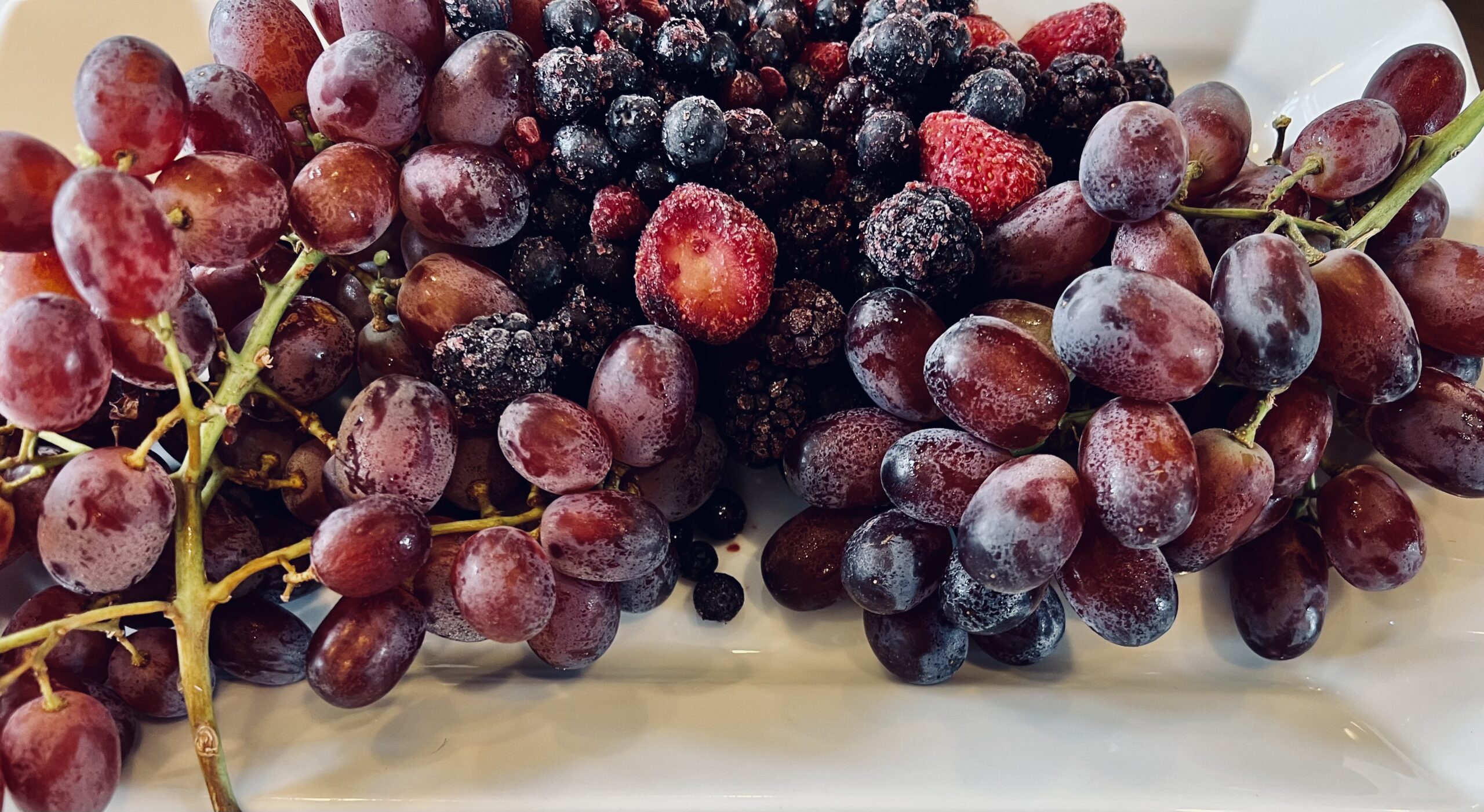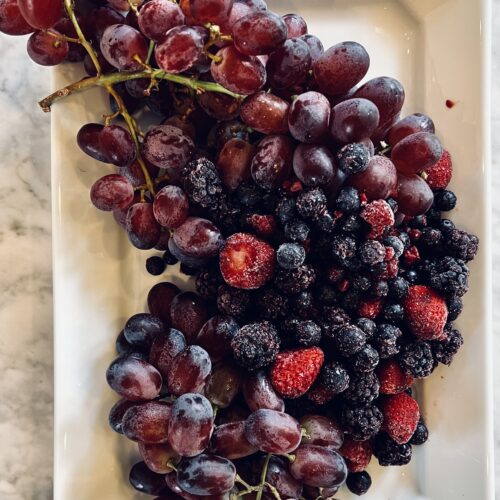 Roasted Grape/Mixed Berry Compote
A wonderful combination of purple roasted grapes and mixed berries sweetened with honey and citrus. Miso paste add another layer of flavor. Perfect for topping cakes, pancakes, waffles, and toast!
Equipment
1 Blender

1 silicone lined baking sheet or dish
Ingredients
2

lb

purple grapes

24

oz

mixed berries (cherries, blueberry, raspberry, blackberry, strawberry)*

3/4

cup

honey

2

lemons or oranges, juiced and zested

2

tsp

miso paste
Instructions
Preheat oven to 400 degrees F.

Place grapes and mixed berries on a lined baking sheet. Pour honey over the top.

Transfer fruit to a blender and pulse gently with citrus juice, zest, and miso paste. Use some of the roasting liquid for added sweetness. Taste and add honey or miso if needed.

Store in the refrigerator. Yields appromately 4 to 4 1/2 cups fruit compote.
Notes
*Frozen mixed berries work great. Remove from freezer and add directly to the tray with the grapes, do not thaw prior to roasting.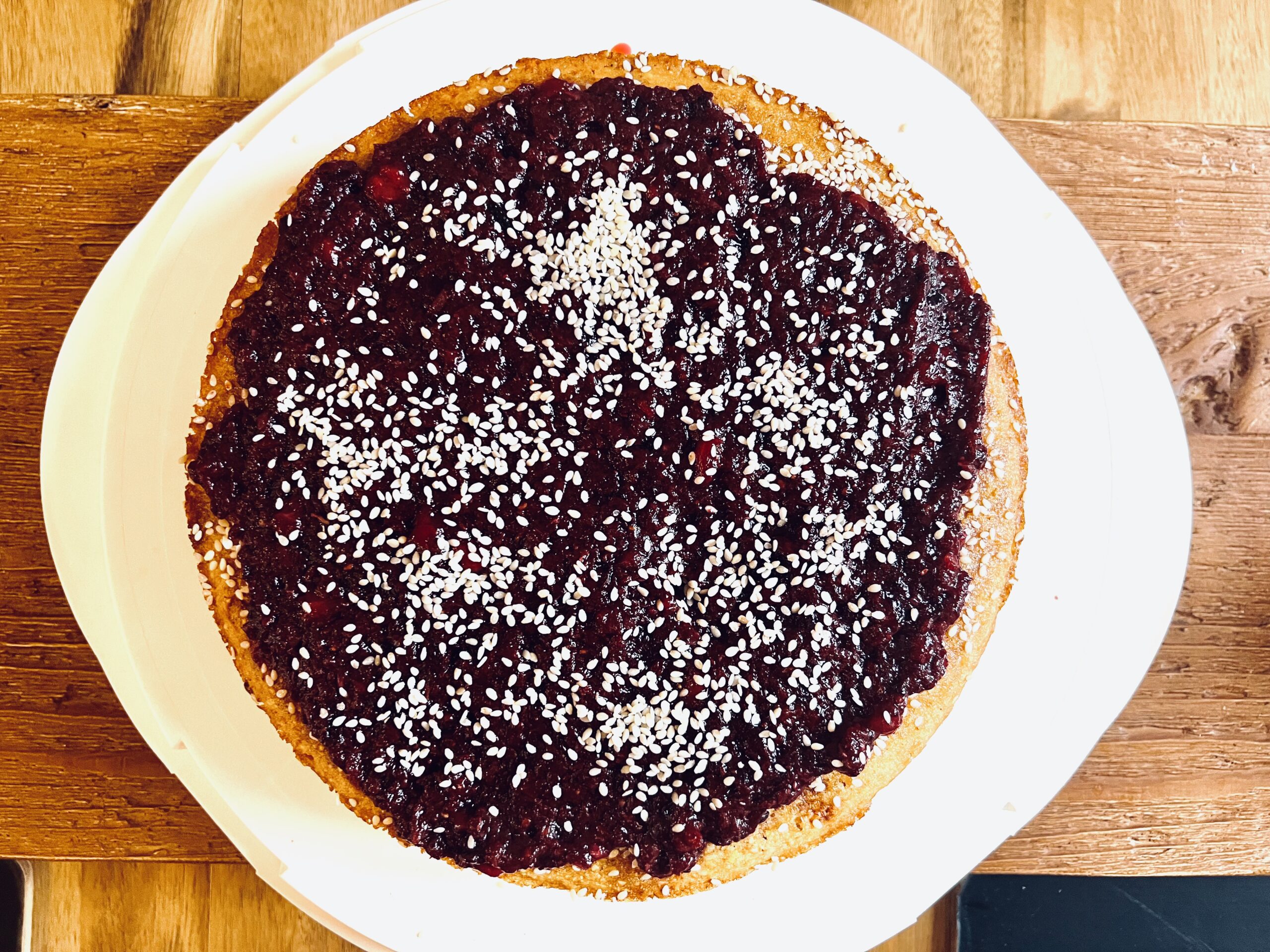 Sesame Seed Honey Cake:
The combination of semolina flour and cornmeal with honey and tahini give this cake its unique flavor. First, place each cake pan over a sheet of parchment paper and with a pen trace a circle onto the parchment paper. Next, cut the circle of parchment paper out and place in the bottom of each round cake pan. Then, spray the cake pans with olive oil. In two separate bowl measure out the dry ingredients and the wet ingredients. After combining the wet and dry ingredients together, pour the batter into the prepared cake pans and bake for approximately 22 minutes. Last, brush each cake with 1 tbsp of honey and sprinkle 1 tbsp of sesame seeds on top and return to the oven for 3-5 minutes.
Allow the cakes to cool completely before removing them from the pans. For assembly, spread 1 cup of jam or roasted grape compote between the cake layers and another cup of jam or compote on top of the cake. Sprinkle with additional sesame seeds if desired. Store the cake in the refrigerator in an air-tight or glass container until ready to serve. For optimal taste, serve cake 1-2 days after baking and assembly. The honey and the jam will continue to soak into the cake layers. We like to serve our slices with additional jam and non-dairy whipped topping!
Sesame Seed Honey Cake
A delectable blend of cornmeal, semolina, honey, and sesame topped with with a roasted grape & mixed berry compote. Amazingly moist and baked in 25 minutes! Make ahead and serve the next day for the ultimate flavor and texture.
Ingredients
1

cup

semolina flour

1

cup

cornmeal

1

tbsp

baking powder

1/2

tsp

salt

1/2

tsp

baking soda

1/2

cup

oat milk

1

lemon

juiced and zested

2/3

cup

honey

2

tbsp

honey for tops of cakes

1

5.3 oz

container soy yogurt (either plain or vanilla)

1

tbsp

tahini

1/3

cup

sesame seeds, divided

3

cups

roasted grape/mixed berry compote*, divided
Instructions
Preheat oven to 350 degrees F.

Prepare 2 round cake pans by lining the bottom with parchment paper and spraying bottom and sides of pan with olive oil spray.

In a measuring cup combine lemon juice and zest with oat milk and let stand 5 minutes.

In a separate microwave safe measuring cup add 2/3 cup of honey and tahini. Microwave for 30 seconds and stir.

Combine semolina flour, cornmeal, baking powder, salt, baking soda and 2 tbsp of sesame seeds in a large bowl and set aside.

Add milk mixture, honey mixture, and yogurt to the dry ingredients. Stir to combine.

Pour half of the batter into each prepared cake pan.

Remove cakes from the oven and brush each half with 1 tbsp of honey and sprinkle 1 tbsp of sesame seeds on top.

Continue to cook for another 3-4 minutes.

Remove cakes from the oven and allow to cool completely.

Once cakes have cooled, turn one round cake onto a large platter. Spread 1 cup of fruit compote on top. Then place the second cake on top and top with another cup of fruit compote and sesame seeds for garnish.

Refrigerate cake overnight for optimal flavor and texture. Serve cake slices with additional fruit compote and non-dairy whipped topping if desired.
Notes
*See Ultratruffle recipe for Roasted Grape/Mixed Berry Miso Compote or use your favorite fruit jam.
Looking for some other great dessert ideas for those unexpected guests? Try these Ultratruffle favorites:
Chocolate Chip Biscotti Cookies
Healthy Chocolate Caramel Brownies
Apple Pie Biscotti with Ginger Orange Glaze