A Bit of History:
Every week when Tuesday comes up I remember the alliterative phrase "Taco Tuesday" and contemplate what we will be eating that week. My family loves veggie tacos, especially accompanied with salsa and guacamole. Fortunately, I love making a variety of salsas, and this Smoky & Spicy Tomato Salsa has become a new household favorite. However, I never realized the extent of the debates and disputes surrounding the phrase "Taco Tuesday." For many of us, "Taco Tuesday" may involve cooking or eating tacos. On the other hand, from a restaurant's perspective, this may imply a price, menu, or happy hour special surrounding tacos.
In 1989, a Taco John's, successfully obtained a registered trademark for the phrase "Taco Tuesday" and uses it in their marketing and menus. Taco John's has also won a number of legal disputes involving other restaurant's attempts to use the phrase. Nonetheless, Taco John's trademark does not apply in the state of New Jersey. In New Jersey, the rights belong to Gregory's Restaurant and Bar since 1982. Complicating matters even further, evidence points to the origins of Tuesday taco specials all the way back to the 1930s in El Paso, Texas. According to Backyard Taco, the phrase "Taco Tuesday" first appeared in South Dakota at the Snow White Drive In around 1973. Whew, after reading all this, let's just skip to Thirsty Thursday and call it a week!
About the Recipe: Smoky & Spicy Tomato Salsa
Unlike "Taco Tuesday's" origins, this recipe is simple and can be made from pantry staples. First, roast fresh Roma tomatoes, jalopeno peppers, onion, and garlic. Next, gently pulse them in a blender or crush with a mortar and pestle with some chipotle peppers and lime juice. I love the smoky heat that chipotle peppers bring to any dish and frequently incorporate them in soups and sauces. Last, slice a fresh avocado into small pieces and mix into the salsa. Avocado balances the spicy heat with its creamy, smooth texture. Finally, serve with your favorite tortilla chips and roasted veggie tacos. My family loves roasted cauliflower, carrot, or sweet potato tacos for an easy, week-night meal. This recipe yields a large quantity of salsa making it perfect to serve a crowd or bring to your next party.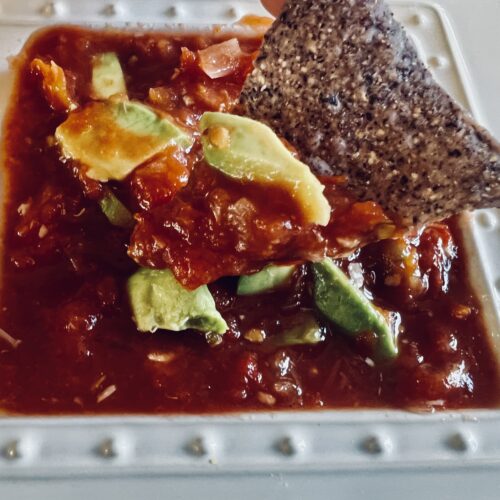 Smoky & Spicy Tomato Salsa
A classic pairing of smoke and spice combine in this salsa. Features roasted Roma tomatoes, chipotle peppers, jalopeno, onion, and garlic. Perfect for dunking tortilla chips and topping tacos.
Equipment
1 Blender or mortar & pestle

1 large baking sheet lined with silicone or parchment
Ingredients
1

large

onion, sliced in quarters

6

cloves

garlic, peeled

10

Roma

tomatoes, sliced in quarters

3

canned

Chipotle peppers (add more for additional spice)

1

jalopeno pepper, seeds removed and sliced in half

salt to taste

1/4

cup

lime juice

1

large

avocado, cubed into bite-sized pieces
Instructions
Pre heat oven to 400 degrees F.

On a large, lined baking tray arrange tomatoes, onion, garlic, and jalopeno pepper.

Roast veggies for 30-35 minutes until beginning to char.

Remove from oven and add roasted veggies, chipotle peppers, lime juice, and salt to a blender. Pulse gently to break up veggies. Taste and adjust seasonings. (Alternate directions: use a mortar and pestle to crush roasted veggies and then combine with lime juice and salt.)

Stir in avocado pieces and enjoy.
Looking for some other great Mexican inspired recipes for your next Taco Tuesday? Try these Ultratruffle favorites: