A Bit of History
Every year around Halloween, I ask my kids what type of candy they hope to collect during trick-or-treating. Interestingly, they always answer Sour Patch Kids. My children remained speechless, upon discovering that their favorite sour then sweet candies have been around for nearly 50 years! In the late 1970s, Mars Men candies made their debut in Canada. Creator Frank Galatolie developed these treats, which were aptly named to capitalize on the popularity of outer space. Always keeping up with new market trends, Mars Men, rebranded to Sour Patch Kids and took advantage of the Cabbage Patch Kid doll craze sweeping the USA. I have to admit, I recently discovered my childhood Cabbage Patch Kid doll in the attic and I truly do not understand how I could have wanted one so badly.
About the Recipe: Sweet & Sour Fruit Slices
I wanted to create a healthier version of these favorite candies using fresh fruit and skipping the high fructose corn syrup found in most processed candies. My endeavor turned successful with these fun sweet and sour fruit slice skewers. My family and I had a blast making them and with only 4 ingredients including the fruit. Simply combine some sugar and citric acid, coat your favorite fruit on both sides, and skewer. In the photos below, we tried fresh tangerine, satsuma, strawberries, and raspberries. We found we loved these delightful treats after they set for a few minutes in the freezer. They definitely fit the 1980s marketing slogan, "Sour. Sweet. Gone."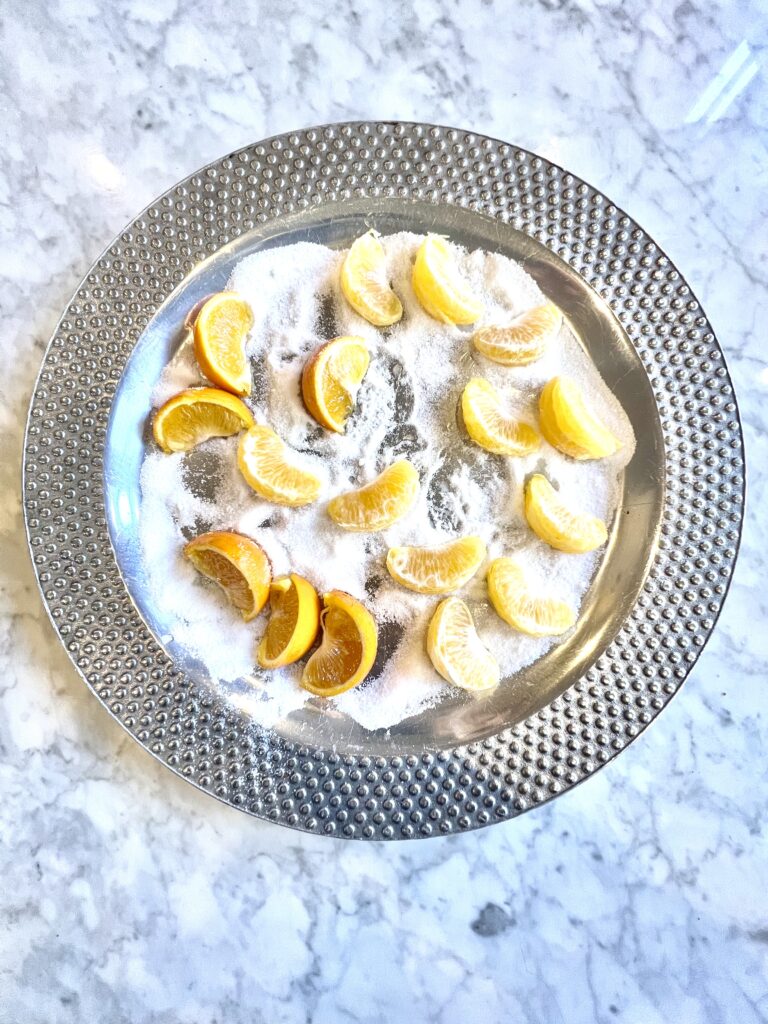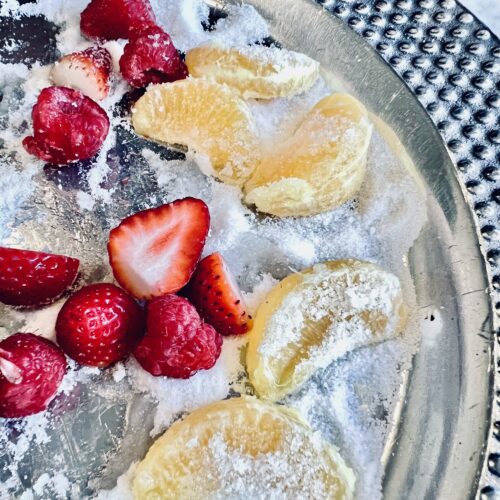 Sweet & Sour Fruit Slice Skewers
Sweet & Sour Fruit Slice Skewers: a delicious and healthier version of sour gummy candies! 5 minute recipe with 4 ingredients (including the fruit) that is the perfect kid-friendly treat!
Equipment
6 bamboo skewers or cake pop sticks
Ingredients
1/3

cup

sugar

1

tsp

citric acid

3

oranges

sliced (peeled or unpeeled)

1

cup

berries (any type)
Instructions
On a tray or a large plate, mix together sugar and citric acid.

Coat each piece of fruit lightly on each side with sugar/citric acid mixture.

Skewer prepared fruit slices on bamboo or cake pop stick.

Place in freezer for 5-10 minutes and enjoy.

Store leftovers in the freezer and thaw for a few minutes before enjoying.
Looking for other kid friendly recipes? Try the Ultratruffle favorites:
Black & White Pancakes just like the cookies, but healthier!
Limitless Chocolate Chip Cookie Bars