A Bit of History:
In previous posts, we discussed the history of sweet potatoes and BBQ sauce, therefore, today I decided to explore another ingredient. Since, a mustard-based sauce adds flavor and binds my Ultimate Veggie BBQ Burgers, it is the perfect focal point. While the Romans first used mustard as a condiment, research indicates that mustard cultivation dates back to 1850 BC in the Indus Valley. However, in 1777, Mssr. Grey and Poupon elevated mustard to a new level by adding white wine in lieu of vinegar; creating a smoother Dijon mustard. Nevertheless, despite the efforts of the French, the USA claims the prize for the nation consuming the most mustard, according to Real Food Encyclopedia. In fact, the state of Wisconsin even boasts a museum dedicated to mustard with over 6,900 types on display. As a child, my dad would lament that every ride at Disney ended in a gift shop, where we would beg unsuccessfully for souvenirs. I am confident that this unique museum also contains a gift shop to purchase some of these fabulous condiments.
About the Recipe: Ultimate BBQ Veggie Burgers
In the warmer months, which number quite a few in South Carolina, we start to crave veggie burgers and BBQ flavors. I am always pondering new ways to craft a veggie burger and bonus points if my kids like them too. Fortunately, these hit the mark. My Ultimate BBQ Veggie Burgers are crafted from sweet potatoes, cornmeal, rice, fresh cilantro, leeks, and garlic. The tangy mustard sauce binds the burgers and adds a bit of heat. Top burgers with crispy leeks, Spicy Cilantro Cream Sauce, and additional BBQ sauce for a fabulous, healthy, plant-based meal. Bake the burgers in the oven and store in the freezer for a quick meal finished on the grill, stove-top, or air-fryer.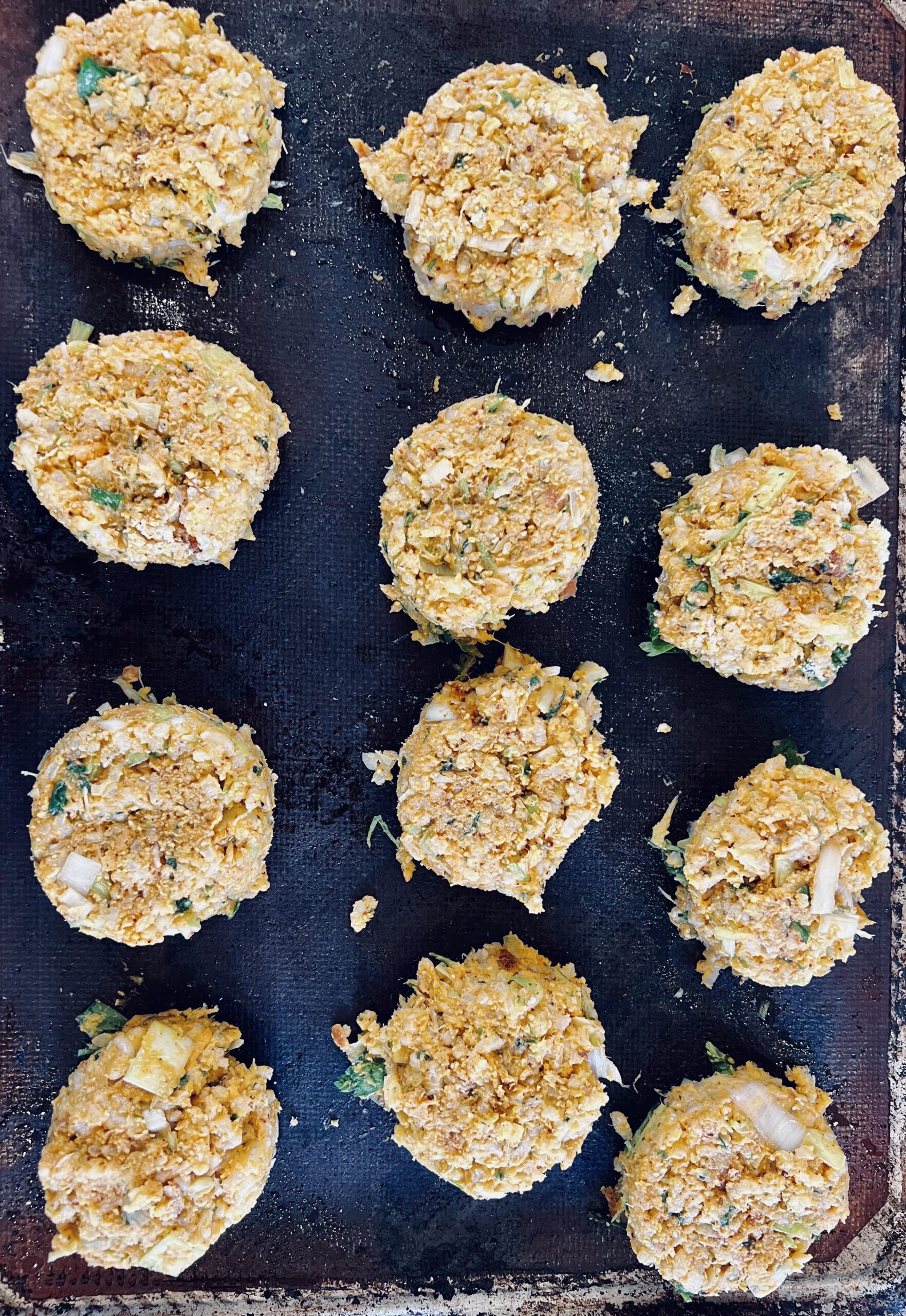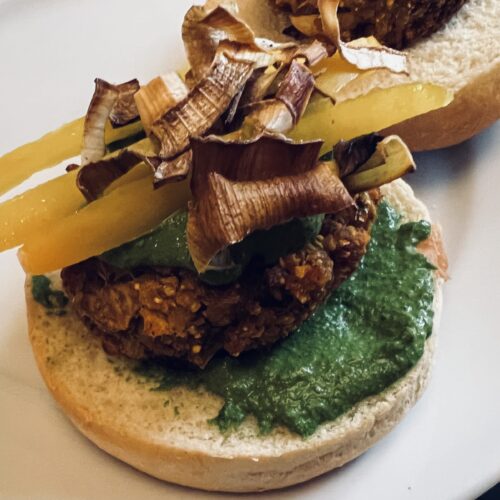 Ultimate BBQ Veggie Burgers
Ultimate BBQ Veggie Burgers crafted with an easy harissa BBQ sauce, sweet potato, cornmeal, rice, and fresh cilantro. A delicious, hearty plant-based burger perfect for your next cookout.
Equipment
1 Blender

1 Baking sheet lined with parchment or silicone
Ingredients
2 1/4

cup

cooked Arborio rice

1/2

cup

panko

1/2

cup

cornmeal

3

tbsp

Harissa Mustrad BBQ Sauce*

4

cloves

garlic or 2 stalks of green garlic

3

cup

leeks, chopped (1 cup for burgers and 2 cups for optional crispy leek topping)

2

medium

sweet potatoes

1

cup

fresh cilantro

1

tsp

baking soda

1

tsp

salt

1

tsp

liquid smoke

1-3

tbsp

lime juice or water

red pepper flakes or additional harissa spice rub if desired
Instructions
Preheat oven to 375 degrees F.

Using a fork, pierce each sweet potato in multiple spots. Microwave for 3-5 minutes until cooked and tender.

In a blender, gently pulse garlic, leeks, cilantro, sweet potato, baking soda, salt, harissa BBQ sauce, liquid smoke, harissa spice rub, and 1 tbsp or water or lime juice. It is very important not to puree the mixture; it should be chunky. Add a bit more lime juice/water if needed to blend.

In a separate bowl combine cooked rice, panko, and cornmeal.

Add blended mixture to the bowl containing the rice mixture. Still until well-combined.

Spray a 1/3 cup measuring cup lightly with olive oil. Scoop mixture and place each burger onto a silicone/parchment lined baking sheet.

Gently and slightly flatten each burger with the palm of your hand.

Bake in the oven at 375 degrees F for 20 minutes on each side.

Prior to serving, burgers can be crisped in air-fryer, stove-top or grill. Burgers store very well in the freezer for a quick weeknight meal.
Crispy Leeks
Spray 2 cups of chopped leeks with olive oil and place in an air-fryer or oven. Cook until crispy (approximately 10 minutes in air-fryer or cook on a separate try in the oven while burgers cook.)
Serving Suggestions
Top with cilantro lime sauce*, additional BBQ sauce, crispy leeks and your favorite toppings.
Notes
*Ultratruffle Spicy Cilantro Cream Sauce
*Ultratruffle Harissa Mustard BBQ Sauce
*Ultratruffle Mexican Inspired Harissa Spice Rub
Looking for some other great sandwich and burger ideas? Try these Ultratruffle favorites:
Shiitake Mushroom Pastrami Sandwiches