A Bit of History
The BLT, (classic bacon, lettuce, and tomato), consistently ranks in the top 10 list for popular sandwiches in the USA. In addition, BLT sandwiches celebrate their own national month in April. In 2019, BLT sandwiches claimed the second spot just behind the grilled cheese. However, since then, BLTs have fallen to sixth place. My children expressed great relief that grilled cheese sandwiches still rank number one.
Sadly, no one knows the exact origins of the BLT sandwich. British cookbooks feature recipes for BLT sandwiches dating back to the 1920s. In America, popularity soared after WWII partly due to the rise of supermarkets and easy access to ingredients.
Unfortunately, the classic BLT is loaded with saturated fat and nitrates from processed meats. My recipe for vegan BLT Paella Skewers elevates a classic concoction to a whole new and healthier level!
About the Recipe: Vegan BLT Paella Skewers
Paella remains one of my favorite dishes; I absolutely love the flavor and aroma of saffron infused rice. As most of you know, I also love mushrooms. My trail name, bestowed by my family, is Truffle as I consistently spot the most mushrooms on our foraging trips. Instead of making an entire huge pan of paella, I decided to rework a classic sandwich into an easy to eat appetizer. Really, who doesn't love food on a stick?
In this recipe, the bread consists of saffron-infused rice cakes easily made in a mini-muffin pan. Shredded cabbage tossed with a quick basil garlic yogurt sauce functions as the mayo and the lettuce. Shiitake "bacon" and tomato slices provide the remaining components for this stunning appetizer. This recipe is healthy, vegan, gluten-free, and most importantly kid-approved and delicious!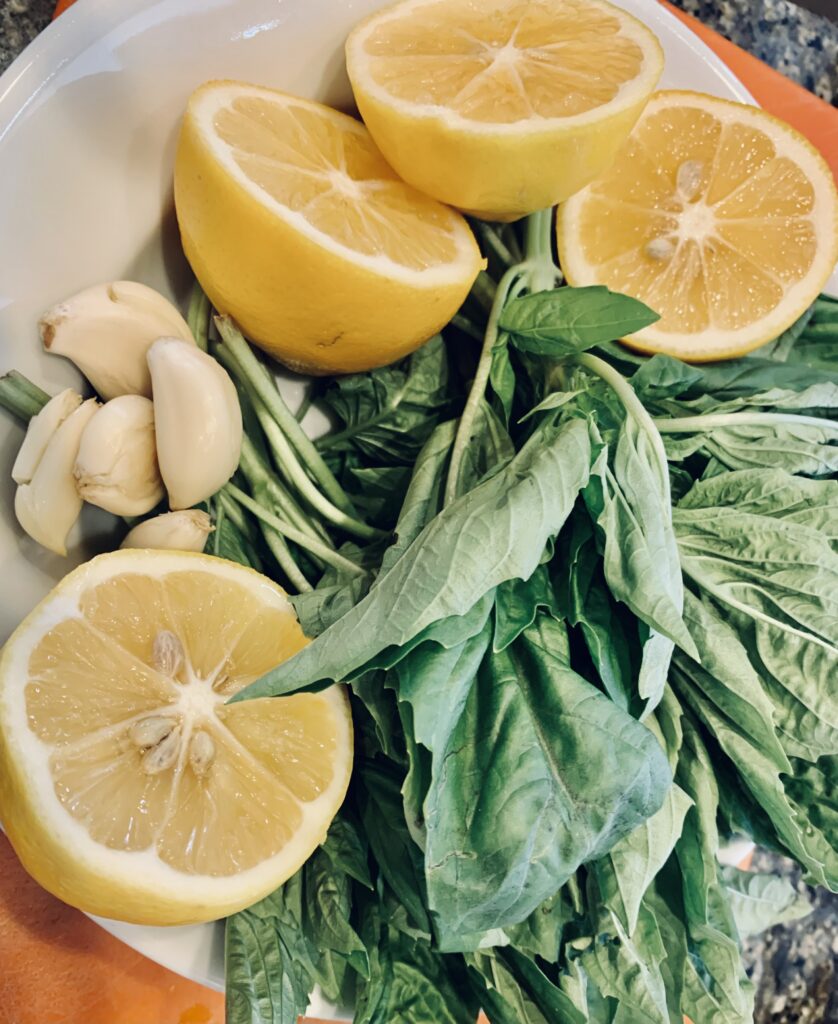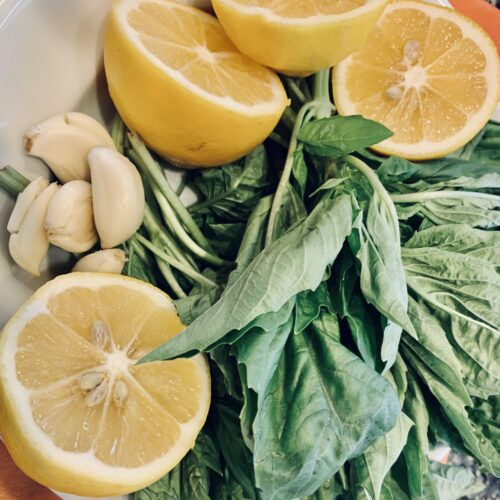 Basil Garlic Cole Slaw
An easy, 10-minute basil garlic coleslaw that is perfect companion to sandwiches or your next plate of grilled veggies! Features fresh basil, garlic, lemon, non-dairy yogurt, and a hint of spice.
Ingredients
3

lemons juiced

1

cup

non-dairy unsweetened plain yogurt

1/4

cup

nutritional yeast

6

cloves

garlic

4

cups

fresh basil leaves

1

heaping tsp

Calabrian chilies in oil (optional for heat, can substitute red pepper flakes)

3

cups

shredded green cabbage

salt and pepper to taste
Instructions
Slice cabbage into very thin strips and set aside or measure 3 cups of store bought pre-shredded cabbage.

Combine basil, lemon juice, yogurt, nutritional yeast, garlic, salt, and Calabrian chilies in blender.

Process until smooth adding a bit of water if needed. Taste and adjust seasonings.

Mix 1 cup of basil garlic sauce with sliced cabbage. Store in the refrigerator to marinate until ready to use.
Helpful Tools/Ingredients:
My favorite Bomba rice. I love the texture and flavor.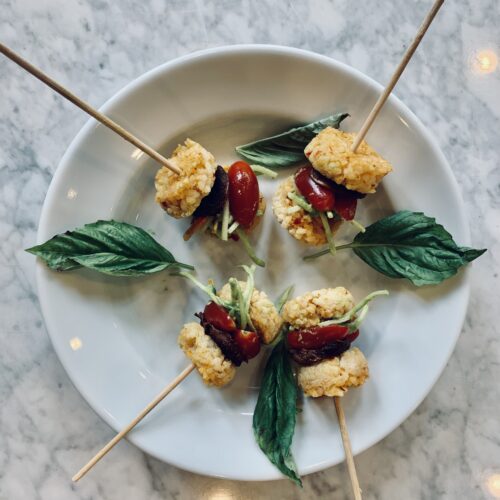 Vegan BLT Paella Skewers
A new twist on a classic sandwich. Crispy saffron infused arborio rice cakes with shiitake mushroom bacon, tomato, and basil garlic coleslaw. A perfect appetizer for your next event.
Ingredients
Shiitake Bacon
12

caps

shiitake mushrooms (approximately 2 cups of trimmed shiitake mushroom caps)

1/4

cup

low sodium soy sauce

1

tbsp

liquid smoke

1/4

cup

water
Saffron Arborio Rice Cakes
1

cup

aroborio or bomba rice

8

cups

water

1/2

cup

panko breadcrumbs (use gluten free if needed)

1/4

cup

nutritional yeast

2-3

tsp

Calabrian chilies in oil (optional, can substitute red pepper flakes)

salt to taste

12

bamboo skewers

1

cup

prepared basil garlic coleslaw*

12

slices

tomato
Instructions
Shiitake Bacon
Remove stems and wipe dirt from mushrooms. Place in a shallow bowl.

Add soy sauce, water, and liquid smoke to the bowl. Marinate mushrooms for 15 minutes.

Place mushroom caps in air fryer to crisp into bacon for approximately 15-20 minutes. I like to check mine every 5 minutes. (You can also roast in the oven at 425 degrees for 30-40 minutes.)
Saffron Rice Cakes
Add rice, water, saffron and a large pinch of salt to a pot. Bring to a boil. Lower heat a bit and simmer for 18 minutes.

Drain rice and mix with panko, nutritional yeast, Calabrian chilies if using, and another pinch of salt.

Coat a mini muffin pan with olive oil spray. Fill each space to the top with the rice mixture.

Bake in the oven at 375 degrees for 30-35 minutes until crispy. (If roasting mushrooms in the oven, the rice cakes can cook at higher temperature but check them more frequently.)
Assembly
Layer a rice cake, small scoop of basil garlic coleslaw, mushroom bacon, tomato slice, and another rice cake. Skewer. Place on a tray with fresh basil for garnish.
Notes
*See recipe for basil garlic coleslaw
Looking for more appetizers and side dishes? You might like these other Ultratruffle favorites:
Crispy Air-Fried Oyster Mushrooms with Homemade Ketchup, or
Creamy Garlic Horseradish Dip with Hot Honey Parsnips.