A Bit of History:
Julia Child succinctly and perfectly sums up a Caesar Salad, as "A Sensation of a Salad." Julia Child had the pleasure of enjoying many cuisines and restaurants during her time. One such memory involves her experience at the Hotel Caesar in Tijuana, Mexico. Caesar's restaurant, located within the hotel to bypass Prohibition restrictions, boasts the invention of the Caesar Salad. Legend states that on July 4th, 1924, kitchen ingredients dwindled, forcing Italian chef Caesar Cardini to get creative. He prepared his salad concoction table-side to enhance the presentation. The salad skyrocketed to immediate success. In fact, The International Society of Epicures even dubbed it 'the greatest recipe to originate in the Americas in 50 years'.
According to Cardini's daughter, the original recipe did not contain anchovy, but instead utilized Worcestshire sauce for umami. Cardini also added coddled eggs and olive oil. In my Vegan Caesar Salad Dressing recipe, I also skip anchovies, but opted for both Worcestshire and vegan fish sauce. While I love a great Caesar salad dressing with olive oil, I decided to keep this creamy, version oil-free. And I don't even miss the oil, the end result is that good!
About the Recipe: Vegan Caesar Salad Dressing
This recipe could not get easier! Tofu and mustard act as the binding agents and maintain a creamy texture. While, capers, nutritional yeast, Worcestshire sauce, and vegan fish sauce kick up the flavor! Simply blend all of the ingredients and toss with your favorite lettuce combination. In my house, we love to roast fresh summer tomatoes for a salad topping. Another great addition are garlic croutons or toasted baguette pieces. In fact, the original Caesar salad featured only one garlic crouton. For a heartier meal, toss your favorite cooked grain such as farro, quinoa, bulgur, with the lettuce and dressing.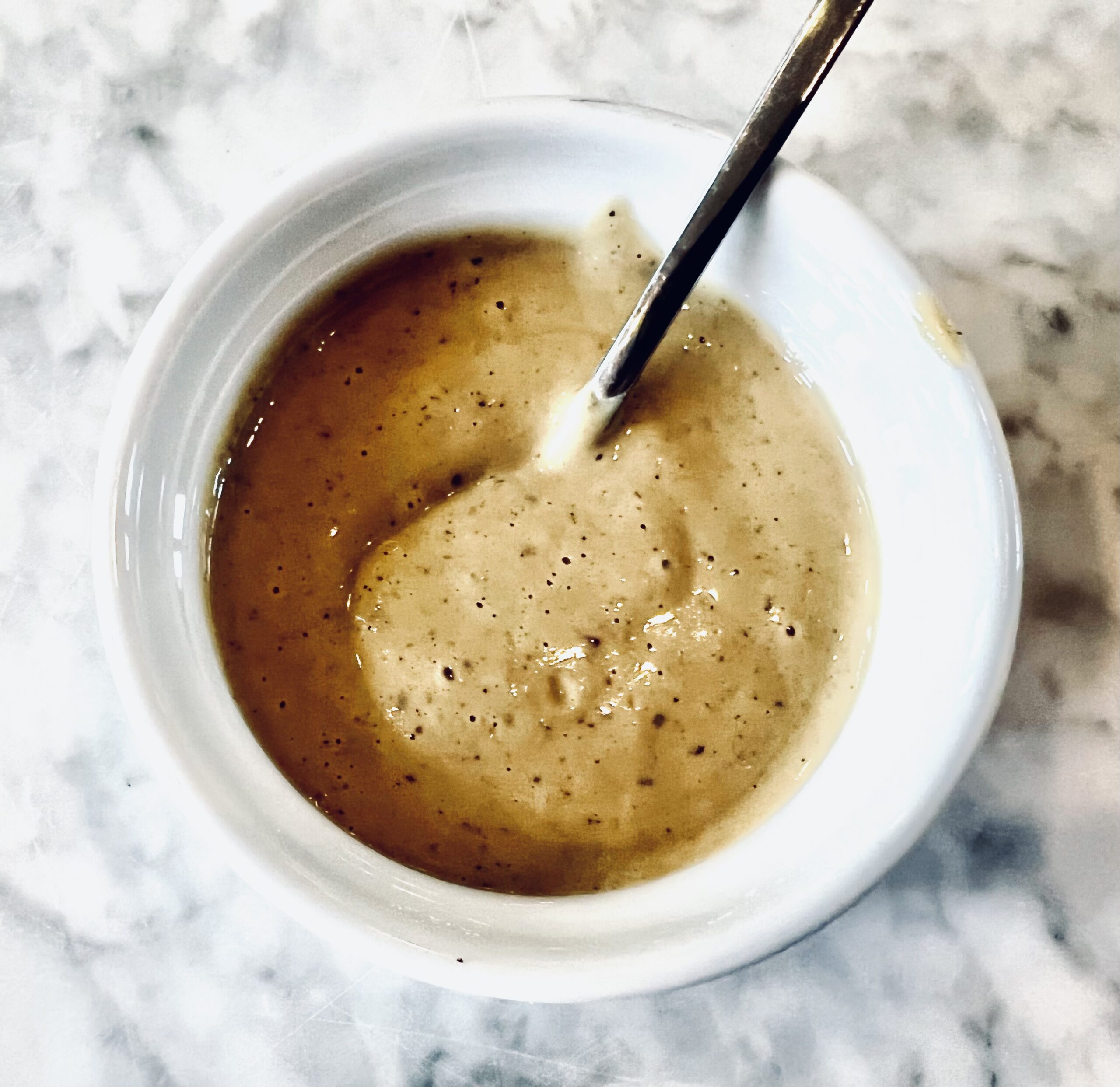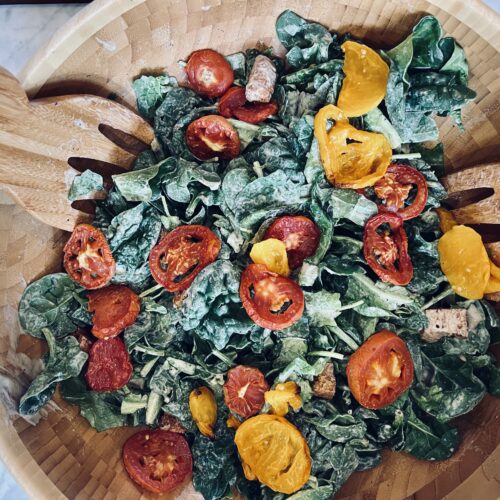 Vegan (Oil-Free) Caesar Salad Dressing
A 5-minute, plant-based, oil-free Caesar salad dressing. Tangy and peppery with all the classic flavors of a traditional Caesar salad. Perfect over Romaine/mixed lettuces with roasted tomatoes and garlic croutons.
Ingredients
12.3

oz package

Extra firm silken tofu

2

tbsp

vegan fish sauce

3

tbsp

capers

1/3

cup

nutritional yeast

3

tbsp

Dijon mustard

1

tbsp

apple cider vinegar

1

tsp

whole black peppercorns (add more if desired)

1

lemon

juiced and zested

2

tsp

vegan worcestershire sauce

1

tsp

dulse flakes (can substitute for additional fish sauce if you can't find these)
Instructions
Combine all ingredients in a blender and process until smooth. Taste and adjust seasonings to your preferences.

Store in the refrigerator. Serve over your favorite mixed greens with roasted tomatoes and garlic croutons, or use as a dip for raw vegetables.
Looking for some other great salad recipes? Try these Ultratruffle favorites:
Orange Ginger Pomegranate Vinaigrette with Fennel Salad