A Bit of History
My kids and I really enjoyed bouncing in the kitchen this week before crafting my easy homemade cranberry sauce. Apparently, your cranberries are uber fresh if they bounce when dropped to the floor. And really, who doesn't love bouncing food on purpose? I highly recommend it if you have never tried to bounce cranberries.
I will share one more fun fact with you for Thanksgiving and then it is back to the kitchen for all of us! Over dinner this year, quiz your guests and see who knows what year Thanksgiving was celebrated on the third Thursday of November. I must admit, I did not know this fact. In 1939, in order to boost the struggling economy, FDR moved Thanksgiving to the third Thursday of the month. Shifting the holiday allowed for an extra week of shopping before Christmas. However, moving Thanksgiving, angered many people. Football coaches, printers, and other manufacturers who had already announced Thanksgiving games, cards, and calendars were especially upset.
About the Recipe: Easy Homemade Cranberry Sauce
There are thousands of cranberry recipes to choose from, but I have been making a version of this sauce for almost 20 years. This year, I forced myself to measure and write down what I tossed in the pot. To my surprise, only 5 ingredients plus water, landed in my pot. This sauce also comes together in 15 minutes flat. It thickens as it sets so don't be fooled into thinking you have to cook it longer. Cranberries become very bitter if cooked too long. Since, this sauce is not very sweet, feel free to supplement additional honey or sugar if desired.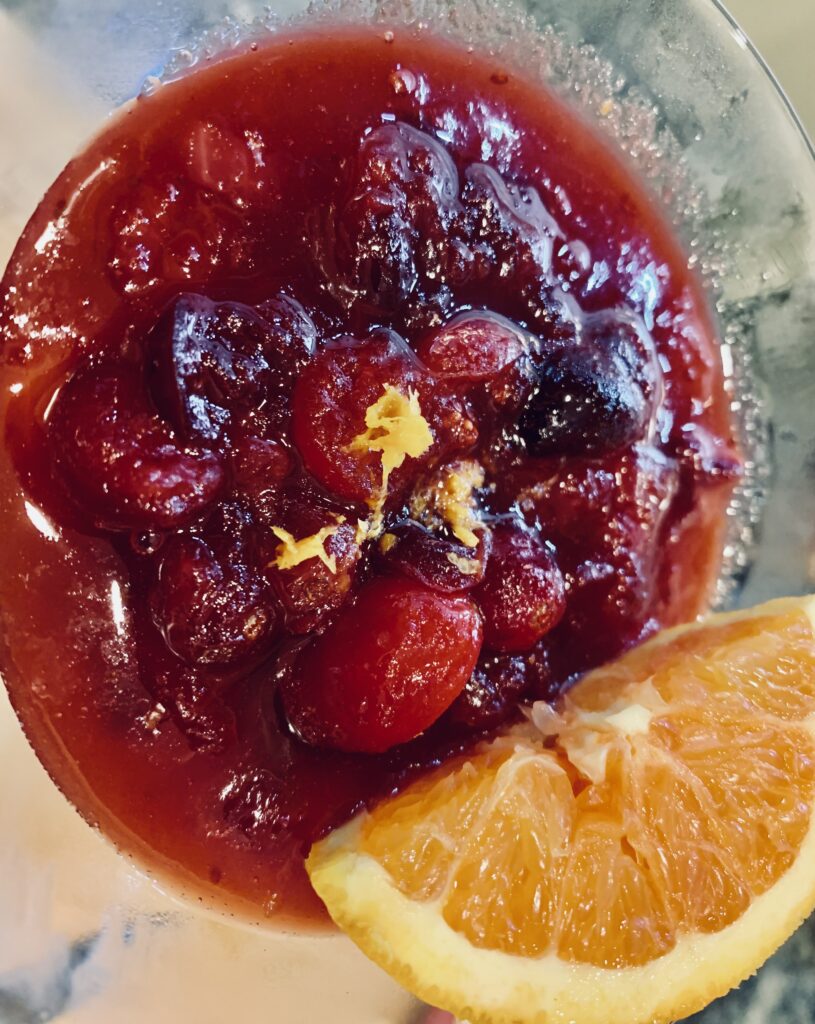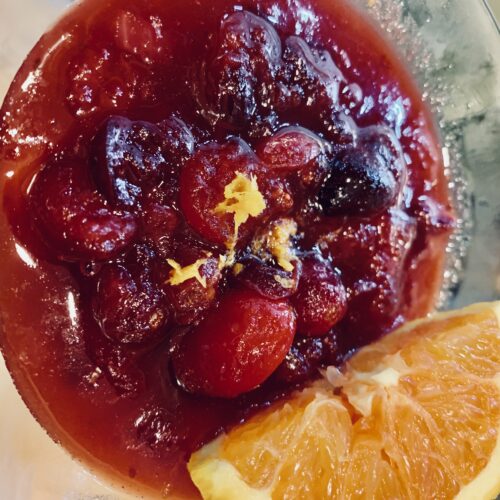 Homemade Cranberry Sauce – Just 5 Ingredients
An easy, delicious, homemade cranberry sauce. 15 minutes of work and 5 ingredients and you have a stunning, elegant, and fabulous side dish for the holidays.
Ingredients
2

12 oz. bags

fresh cranberries

2

oranges, juiced and zested

1

cup

honey (or substitute sugar if vegan)*

2

shallots, minced

1/2

cup

dry sherry

1

cup

water

olive oil spray or additional water for cooking onion
Instructions
Heat a large saucpan over medium heat. Add a bit of water or lightly spray with olive oil.

Add minced shallots and cook 3-4 minutes.

Add cranberries, honey, water, sherry, orange juice, and zest. Stir to combine.

Bring to a low simmer and cook for approximately 10 minutes until cranberries pop. (Cooking cranberries too long will make them taste bitter). Taste and add more honey or sugar if desired.

Remove pot from heat and allow to cool. The sauce will thicken as it cools. Once cool, store in refrigerator.

Serve with your favorite holiday dishes. Leftovers are excellent on toast, muffins, or oatmeal.
Notes
*This cranberry sauce is not very sweet. If desired, add more honey or sugar for a sweeter version.
Need some other holiday ideas for your table? Try some of these ultratruffle favorites, smoked pumpkin butter, baked cranberry oatmeal, smoked fig jam, and olive tapenade.