A Bit of History
Nothing pleases me more than a tasty new recipe and some interesting food facts. Today's post nailed both criteria for me. While researching information for my Easy Smoked Pineapple Salsa post, I discovered pineapples boast a secret superpower: regeneration. Soak the the top portion of the pineapple with leaves attached in water for 2 weeks and then transfer to soil. Unfortunately, pineapples take a notoriously long time to grow. Your wait time could be as long as 2 years!
Pineapples originated in South America and made their way to Europe via Christopher Columbus. Spaniards bestowed the name pina, or pine, due to its similar appearance to pinecones. The apple part of the name describes the interior texture of the fruit. The Europeans, especially the British, considered pineapples to be a true luxury item and grew them in private greenhouses. While pineapples are enjoyed worldwide, Costa Rica, Brazil, and the Philippines grow the most.
About the Recipe
Thankfully, if you purchase a pineapple at the store, you won't have to wait a ridiculous long time for this delectable salsa. Simply set your grill or smoker at 200-225 degrees F, cube the pineapple, and let the smoke do the rest. Next, toss the smoked pineapple with red onion, jalapenos, and lime juice. Smoked Pineapple Salsa is a wonderful addition to your next grilled veggie taco or just for dipping tortilla chips. The savory flavor of smoke perfectly complements the sweetness of ripe pineapple. We like to serve ours with roasted or grilled broccoli, cauliflower, peppers, onion, and mushrooms over wild rice or all wrapped up in a tortilla.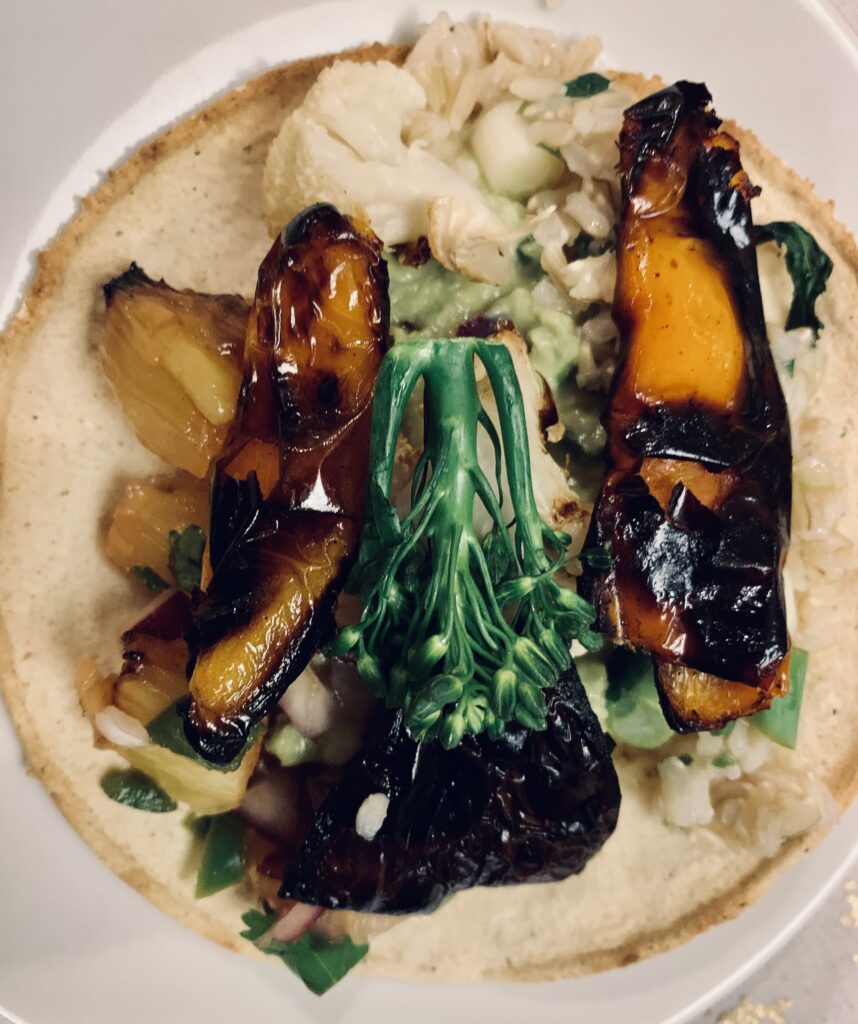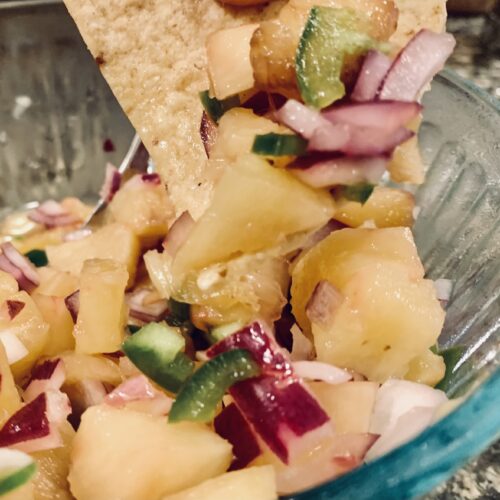 Easy Smoked Pineapple Salsa
A sweet, smoky salsa with spicy jalopeno peppers. Perfect for topping tacos and dipping your favorite chips!
Ingredients
1

whole

pineapple cubed and cored

1/2

red onion diced

1-2

large

jalopeno peppers minced

2

tbsp

lime juice

salt to taste
Instructions
Smoke pineapple on the grill for approximately 2 hours at 225-250 degrees F. I like to place my pineapple in a vegetable basket for the grill.

Once finished, remove the pineapple from the grill and let it cool.

Toss smoked pineapple with remaining ingredients. Taste and adjust seasonings.
If you are craving taco night try these other Ultratruffle favorites: