A Bit of History
A supernova of flavor explodes in this healthy, easy Citrus Breakfast Bowl! If you are like me, salient points of my earlier education have slipped from my memory, especially geometry and calculus equations. However, I tend to remember interesting facts from history or science. I actually did recall that a supernova is an exploding star and its massive explosion. According to NASA, supernovas provide the largest, most powerful explosion ever witnessed by humans. The colors of beautiful fresh citrus and star shaped anise combine for a truly astronomical breakfast.
I have always loved the smell of anise and star anise, maybe because I really enjoy black licorice. Nevertheless, I did not realize that star anise demonstrates antiviral properties. Interestingly, star anise provides the precursor molecule for shikimic acid. This may not seem like a big deal, but shikimic acid is vital for producing Tamiflu (a medication widely used to combat the influenza virus).
About the Recipe: Citrus Breakfast Bowl with Orange Spiced Oat Milk
To ease hectic weekday mornings, I like to meal prep a few things each Sunday, especially items for breakfast and school lunches. I usually prepare a batch of baked oatmeal, breakfast cookies, or a bunch of waffles to freeze. I also cook a batch of grains such as farro or wheat berries. Preparing wheat berries in advance, requires two simple steps. First, add wheat berries to a large, insulated thermos and cover with boiling water later in the day on Saturday. Seal the thermos and allow berries to soak overnight. The next morning, simply drain the wheat berries and transfer to a saucepan. Cover with berries with water by 1-2 inches and simmer for approximately 30 minutes and drain. Finally, divide the berries into individual servings and store in the refrigerator. Cooked wheat berries make a great breakfast or the perfect grain to add to a salad during the week.
Infused oat milk is also easy to prepare in advance for meal prep. Simply, simmer milk with cinnamon sticks, cloves, and star anise, tangerine or orange zest and juice. After 15 minutes, strain milk to remove the zest and store in the refrigerator. I like to let the cinnamon sticks and star anise soak with the milk, as they continue to part flavor. Breakfast during the week is now a snap! Pour some infused milk over cooked wheat berries, add nut butter and honey if desired and cook in the microwave. Top your bowl with desired citrus fruits and chopped nuts. The milk also complements oatmeal extremely well.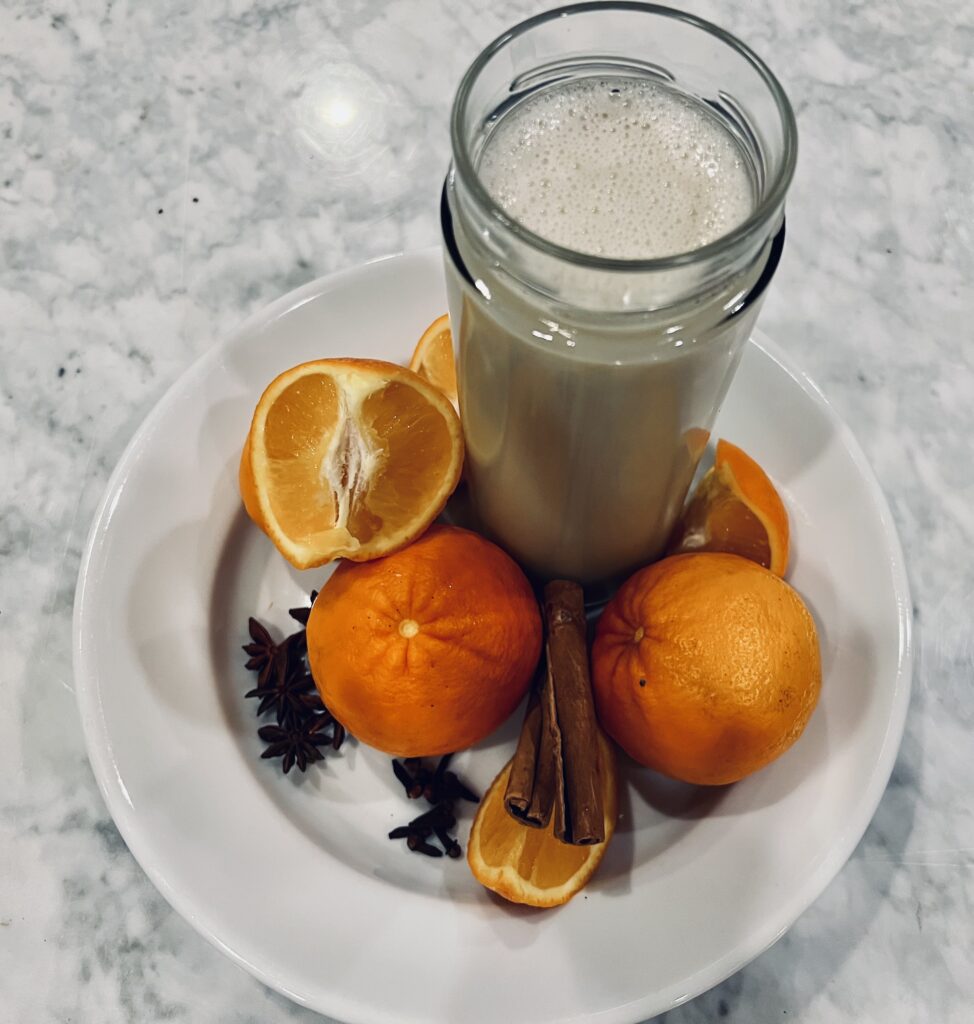 Helpful Tools/Ingredients
My favorite wheat berries originate from family operated Palouse Farms in Washington. I love how each bag can be field traced!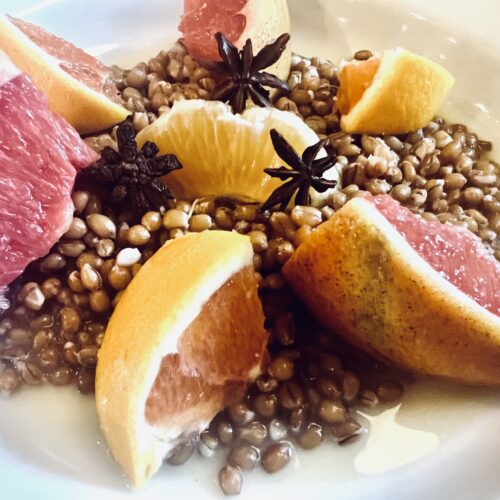 Supernova Citrus Breakfast Bowl
Oat milk infused with star anise, cinnamon, cloves, and fresh tangerine juice served over wheat berries with fresh citrus. A bright, refreshing, and healthy breakfast to start your day. Prepare in advance for breakfast all week. Also works well for overnight oats and oatmeal.
Ingredients
Infused Oat Milk
3

cups

oat milk

5

whole

star anise

10-12

whole

cloves (sub 1/2 tsp ground if needed)

2

whole

cinnamon sticks

4

fresh

tangerines (or 2 oranges) juiced and zested

1

tbsp

honey (optional)
Wheat Berries
2

cups

dried wheat berries, rinsed

hot water for soaking wheat berries
Instructions
Infused Milk
Combine oat milk, star anise, cloves, cinnamon sticks, tangerine or orange juice and zest, and honey if using in a small saucepan. Heat gently on low for 15 minutes.

Using a mesh strainer, pour the milk into a separate storage container. Discard the zest. I like to keep the cinnamon sticks in the milk storage container as they will continue to impart flavor.

Refrigerate until ready to use. Shake well before using.
Wheat Berries Quick Method
Quick Method: Place rinsed wheat berries in an insulated thermos and cover with boiling water allowing enough room for expansion. Soak overnight. This will reduce the cook time the next morning by at least half.

After soaking overnight, drain the wheat berries. Place in a medium saucepan and add water until water level is 1-2 inches above wheat berries. Bring to a simmer and cover leaving lid slightly ajar. Simmer wheat berries for approximately 30 minutes until tender and they start to split.
Wheat Berries Slower Cooking Method
Rinse 2 cups of dried wheat berries and then transfer to a large container. Pour hot water over the top and cover by at least 2 inches as they will expand. Soak in the refrigerator overnight.

After soaking for 8-10 hours, drain the wheat berries. Place in a medium saucepan and add water until water level is 1-2 inches above wheat berries. Bring to a simmer and cover leaving lid slightly ajar. Simmer wheat berries until tender and they start to split. Cook time is approximately 60-75 minutes.

Once wheat berries have cooked, drain any water and allow to cool. I like to separate the cooked berries into individual portions and store in the refrigerator.
Serving Suggestions
Place cooked wheat berries in a microwave safe bowl. Add 1/4-1/3 cup of infused milk. I also like to add 1/2 chopped banana, almond butter, and a drizzle of honey. Microwave for 2 minutes. Stir. Top with desired citrus fruits and chopped nuts.
Notes
** If gluten free or need a faster breakfast, this infused milk tastes great with oatmeal and overnight oat cups.
Looking for other breakfast ideas? Try these Ultratruffle favorites:
10 minute gluten free waffles/pancakes
Gorp and Scroggin (Trail Mix) Oat Cups