A Bit of History:
Before moving to the Southeast portion of the US, pizza remained my only experience with any sort of tomato pie. However, in the South, tomato pie consists of a pie shell stuffed with tomatoes, cheese, and layered with mayonnaise. Mrs. Rose Welsh, of Maryland, authored the first recipe for Southern tomato pie in Southern Living in 1978. In the summertime, tomato pie dishes with numerous variations pop up on restaurant menus all over town and at the farmer's markets. Since, I absolutely love tomatoes, I wanted to craft a healthier plant-based variation of Southern tomato pie. The recipe below for Vegan Tomato Pesto Pie is an absolute winner and a dish the whole family will enjoy! Even better this recipe, yielding three full pies, will feed a crowd or provide plenty of leftovers to freeze.
About the Recipe: Vegan Tomato Pesto Pie
Instead of using a traditional pie shell crafted with copious amounts of butter, I decided to use a healthier risotto style crust instead. Arborio rice seasoned with saffron, herbs, and nutritional yeast provides the perfect pie base and can be made gluten-free. One of the major problems with tomato pie is a soggy crust. In order to prevent this, the pie shell needs to be blind baked, or baked on its own for a bit without the filling. For this recipe, you can bake the pie shell the day before and store in the refrigerator.
For the pie filling, simply slice the tomatoes, pushing out as many seeds as you can. Then, place the sliced tomatoes in a single layer on paper towels, sprinkle with salt, and let rest for a bit to sweat out some of their water. Next, broil tomatoes for 5 minutes and cool. Lastly, stuff your pie shell! In lieu of a traditional cheese and mayonnaise spread, my recipe calls for your favorite pesto. Simply, line the pie shell with a layer of broiled tomatoes, coat them with a 1/4 cup of pesto, and top with another tomato layer. My recipe for Vegan Dill, Mint, Pea Pesto works perfectly with this pie or try my Vegan Basil Garlic Pesto. Finally, bake the stuffed pie and cool. This pie tastes great after resting for about 30 minutes after baking and should be served at room temperature or slightly warmed.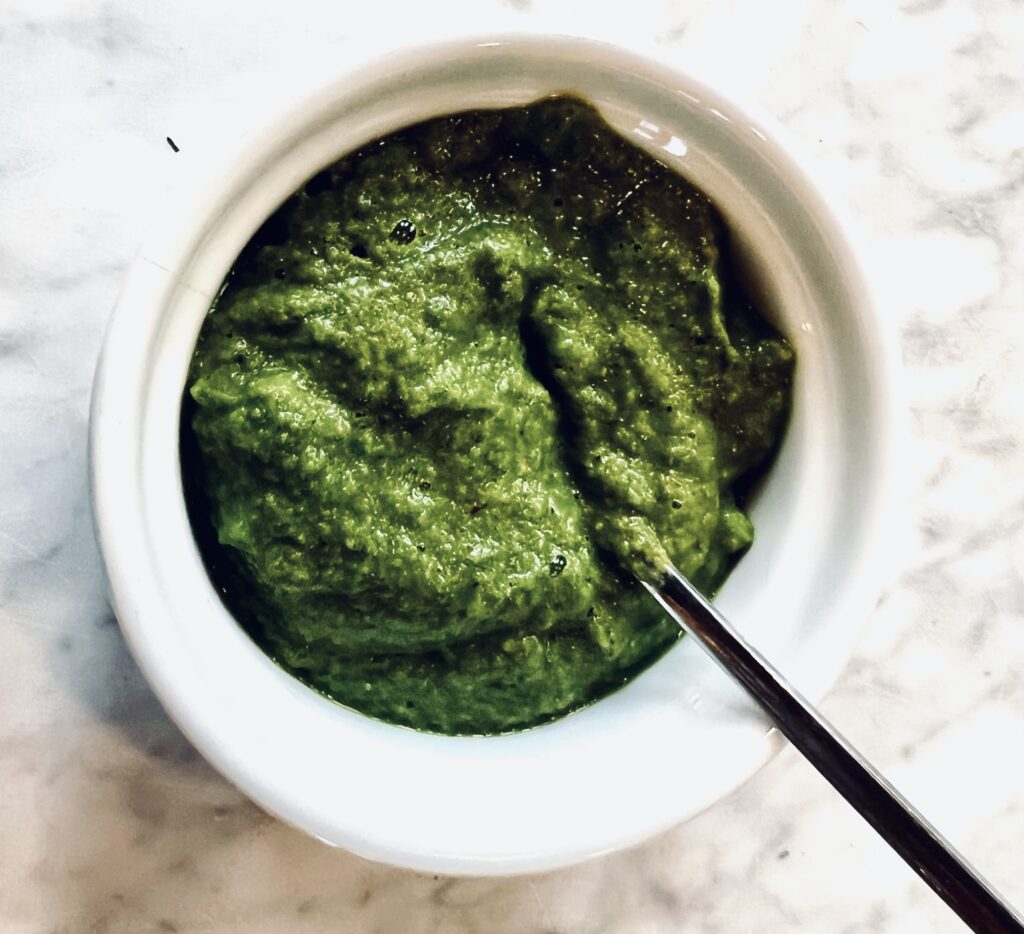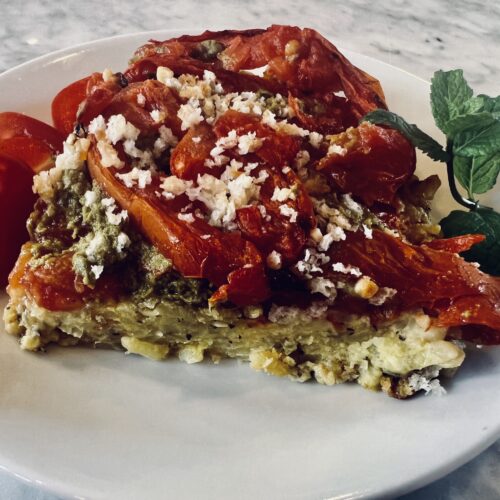 Vegan Tomato Pesto Pie
A healthy, plant-based twist on a Southern classic. Featuring a savory risotto crust and fresh Roma tomatoes layered with basil pesto or dill mint pesto.
Ingredients
Pie Crust
2 1/2

cups

arborio rice

2

tsp

salt, divided

1

pinch

saffron (approximately 1 tsp)

2/3

cup

nutritional yeast

1

cup

panko (use gluten free if needed)

2

tsp

dried oregano

2

tsp

dried basil

2

tsp

dried thyme

1

pinch

red pepper flake (optional)
Pie Filling
10

Roma tomatoes, sliced

3/4

cup

pesto of choice*

3/4

cup

panko

3

tbsp

minced garlic
Instructions
Pie Shell
Add rice, saffron, and 1 tsp of salt to a large pot. Cover with 10 cups of water and bring to a boil. Simmer 18 minutes. Drain rice.

In a large bowl, mix drained rice, nutritional yeast, 1 tsp of salt, oregano, thyme, basil, and red pepper flakes if using. Stir to combine.

Spray each pie pan with a bit of olive oil spray.

Add 2 cups of rice mixture to each prepared pie pan. Press firmly down into an even layer.

Cook pie shells for 25 minutes at 400 degrees. Remove from oven and cool while you broil tomatoes.
Pie Filling
While rice is simmering, slice tomatoes. Push seeds out of each slice. Lay slices in a single layer on paper towels. Sprinkle with a bit of salt and let sit. This will allow any excess water to sweat from the tomatoes and prevent the pie from becoming soggy.

Broil tomato slices on high for 5 minutes and remove from oven Cool for 15 minutes.

Spread a layer of broiled tomatoes on top of each pie crust.

Brush 1/4 cup of pesto on top of the tomato layer for each pie.

Add a second layer of tomatoes on top of the pesto for each pie.

Bake pies at 425 degrees F for 20 minutes.

Sprinkle 1/4 cup of panko and 1 tbsp of minced garlic on top of each pie and bake for 2 additional minutes for a crispy finish.

Allow pies to cool for 20 minutes before cutting. Refrigerate any leftovers and reheat in oven or air fryer.
Looking for some other great tomato recipes? Try these Ultratruffle favorites:
Creamy Roasted Tomato & Eggplant Soup
Crispy Air-Fried Mushroom Nuggets with Homemade Tomato Za'tar Ketchup